Hearty Healthy Stuffed Peppers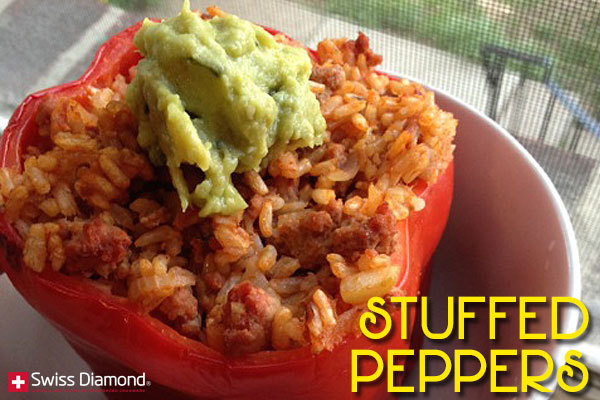 Hearty Healthy Stuffed Peppers
Looking for a dinner that's good and good for you? Try Hearty Healthy Stuffed Peppers. In this dish, stuffed red peppers are loaded with tons of veggies, brown rice, and ground turkey. This stuffed pepper recipe is made for the health-conscious mind. Using ground turkey instead of ground beef helps to reduce calories as well as fat. Likewise, between the brown rice and the vegetables, the stuffing is packed with essential nutrients like fiber and anti-oxidants. Stuffed red peppers are the perfect meal because they are super easy to make and really rich in protein, vitamins, and whole grain.
Serves4
Ingredients
4 red bell peppers
1 tablespoon olive oil
3 cloves garlic, minced

1

/

2

Vidalia onion, chopped
1 cup baby Bella mushrooms, chopped
1 pound lean ground turkey
2 teaspoons Kosher salt (or to taste)
1 teaspoon each (or to taste): paprika, crushed red pepper, chili powder, and garlic powder
2 cups brown rice
2

1

/

2

cups water
4 tablespoons tomato paste

1

/

2

cup water
1 tablespoon tomato paste
Cheddar cheese or guacamole (optional)
Instructions
Heat oven to 375 degrees F

Remove tops and seeds from peppers. Set aside.

Bring a Swiss Diamond skillet to medium heat, add garlic, and allow to cook for 30 seconds until perfumed. Add onion and mushroom. Saute until wilted.

Add ground turkey to skillet. Allow to cook until pink is gone (do not cook all the way). Add salt and seasonings to taste.

Add rice and water to pan. Once water is absorbed, add the tomato paste and spread evenly.

Remove filling from heat. Spoon rice mixture into peppers. Place filled peppers on a Swiss Diamond double-burner griddle.

In a separate cup, mix remaining water, olive oil, and tomato paste. Pour over peppers.

Bake, covered in tin foil, at for 1 hour. Top with your choice of condiments. Enjoy!
Your Recently Viewed Recipes