Whipped Chocolate Ganache Frosting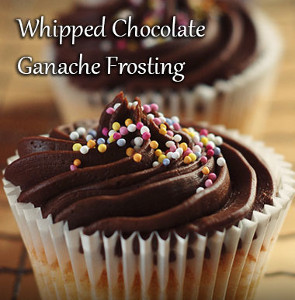 Whipped Chocolate Ganache Frosting
This Whipped Chocolate Ganache Frosting is a sweet and simple recipe that's sure to please frosting enthusiasts of all ages. This frosting is a two ingredient recipe - all you need is heavy cream and semisweet chocolate. The frosting doesn't take long to make - let your cake or cupcake cool after baking while you whip up this topping. Keep this recipe in mind for any dessert you bake in the future. If chocolate frosting isn't what you need, adapt this recipe to fit the flavors you prefer.
Notes
Preparation: Bake 12 cupcakes according to package directions until tops are pale gold and toothipick or skewer inserted into center comes out clean. Cool cupcakes on a wire rack to room temperature, about 45 minutes.
Quick Tip: Use a skewer or paring knife to lift cupcakes from the baking tin and transfer to wire rack.
Yields2 1/2 cups
Ingredients
1 cup heavy cream
8 ounces semisweet chocolate, chopped
Instructions
Slowly bring the cream to a boil in a Swiss Diamond saucepan. Use medium heat, not high heat, to prevent scorching.

Place the chocolate in a medium bowl and carefully pour the boiling cream over it. Cover with aluminum foil and let stand 5 minutes.

Whisk until smooth, then cover with plastic wrap and refrigerate until cool and slightly firm, 45 minutes to 1 hour.

Transfer the cooled chocolate mixture to the bowl of your standing mixer. Use the mixers whisk attachment to whip the ganache at medium speed until fluffy and mousse-like, about 1 minute. Continue whipping until it forms medium-stiff peaks, approximately 1 more minute.

Spread 2 to 3 generous tablespoons Whipped Chocolate Ganache on top of each cooled cupcake; serve.
Your Recently Viewed Recipes