Pink Stuff Recipe
This vintage pink salad is almost too pretty to eat.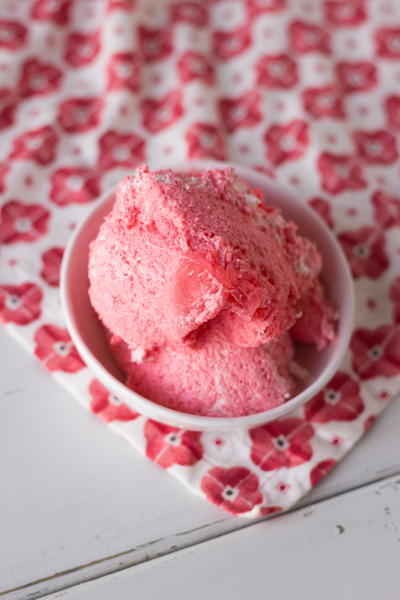 Pink Stuff Recipe
Do you remember seeing this recipe on the table at Thanksgiving? Or maybe your family brings it out for potlucks in the summer? No matter when you decide to serve pink stuff, there's no doubt that this vintage recipe is hard to forget. This dessert is made with whipped topping, and strawberry jello provides the distinctive bright pink color. You might call it pink fluff or pink salad, but we just call it one of our favorite no bake desserts. It's creamy, fruity, and completely delicious.

This interesting vintage recipe is hard to pass by. If you're looking to make an impression at your next potluck, why not try to bring some fluff? It will turn heads and start conversations about the good ol' days. Be sure to scroll down for some tips and tricks on what you can add to your pink stuff.

Note: Some variations of this recipe use cottage cheese in place of buttermilk.

Ingredients
1 (16-ounce) can pineapple tidbits
1 large box Jello strawberry gelatin
2 cups buttermilk
1 small container of whipped topping, thawed
Pink Stuff Recipe
Instructions
Place the pineapple with its juice in a medium saucepan.

Add the jello and stir together.

Bring to a boil over medium-high heat.

Remove pan from the heat and set it aside to cool.

When the pineapple and jello mixture has cooled to room temperature, add the buttermilk and stir together until well combined.

Fold in the whipped topping.
Pep Up Your Pink Stuff with These Extra Ingredients
Pink stuff and pink fluff comes in all sorts of shapes and sizes. Depending on your family, your recipe might vary from ours. Many pink stuff recipes have some tasty alternative ingredients. If you're looking to expand on the recipe above, consider adding the following to the recipe for a new flavor or texture:
Mini Marshmallows
Maraschino Cherries
Frozen Strawberries
Frozen Blueberries
Top with Marshmallow Fluff
Top with Chocolate Sauce
Top with Hard Chocolate Shell
Serve with Ice Cream
Other Names for Pink Stuff!
This vintage recipe was very popular in the 50s and 60s, like so many other jello-based dishes. This ingredient was cheap, easy to make, and crazy versatile.

The rise of in-home refrigerators also made cold dishes all that more accessible.

Since this dish was popular in so many homes, it goes by a few other names!

Some households may refer to it as "pink fluff" while others call it "pink salad". No matter what you call it, we're sure you'll love this tasty dish.
Your Recently Viewed Recipes