18 Dessert Salads: Ambrosia Salad, Jello Salad, and More
Bring any one of these tasty dessert salad recipes to your next potluck!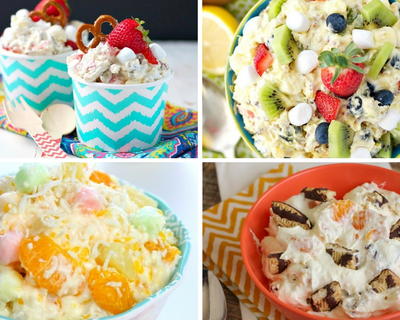 Dessert Salads are the perfect bring-along dish for parties and potlucks. This collection includes jello salad recipes, ambrosia salads, "fluff" salads made with Cool Whip, and more! These obviously aren't the salad recipes you're used to seeing, but they are just as delicious and in a much sweeter way! Made with jello, canned fruits, Cool Whip, pretzels, marshmallows, cookies and more, these dessert salad recipes are some of the best around and most on this list don't even require an oven. Lucky for you, they are also quick, easy, and inexpensive to whip up, and will be a welcomed addition to any potluck spread.
Table of Contents
Your Recently Viewed Recipes