Jello Cookies
These jello cookies will not disappoint! So fun, so colorful, and so easy to make. What more could you want?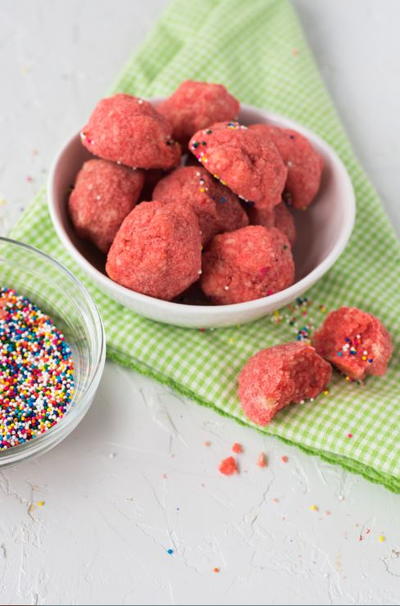 10-Minute Jello Cookies
This fun cookie recipe is great for the kids and so easy they can help you make it! Bake a batch of yummy Jello cookies any time you need a quick dessert that will please everyone.

You can make this recipe using whatever flavor of Jello you love, making the flavor and color options limitless! After just 10 minutes in the oven, these soft, chewy cookies come out covered in sugar and in beautiful vibrant colors.

Your kids will love this colorful sugar cookie recipe so much, they'll want you to make every flavor there is.

Love Retro Recipes? Jello has been a staple in American dishes for years now. First introduced in the 1950s when in-home fridges became the norm, this jiggly dish has some true staying power. It's found in popular recipes from the 60s, 70s, and even the 80s. There are a few jello recipes like this Creamsicle Jell-O Mold featured in our retro cookbook, Retro Recipes from the '50s and '60s: 103 Vintage Appetizers, Dinners, and Drinks Everyone Will Love. Check it out today!

Ingredients
1

1

/

2

cup salted butter softened
1 cup sugar
1 egg
1 teaspoon vanilla
3

1

/

2

cups flour
1 teaspoon baking powder
2 (6-ounce) package strawberry Jell-O
Rainbow sprinkles
Instructions
Preheat oven to 350 degrees F. 

Beat butter in large bowl with mixer until creamy. Add sugar and beat until light and fluffy. Blend in egg and vanilla. 

Mix flour and baking powder in a separate bowl. Gradually beat in flour mixture. 

Add Jell-O. Knead together with dough. 

Shape dough into 1-inch balls. Roll in sprinkles. 

Place, 2 inches apart, on parchment-lined baking sheets. 

Bake 8 to 10 minutes on lined baking sheets.
Did You Know?
Jello is one of the most well-known brands in America! Chances are if you ask anyone on the street about this popular dessert mix, they'll know exactly what you are talking about. In fact, Jello has a 99% brand recognition, meaning that for every one hundred people you ask about the wiggly, jiggly treat, 99 will know what you're talking about!

There have been some pretty weird flavors! In addition to the lime and strawberry flavors you love now, some retired jello flavors include chocolate, coffee, tomato, and even celery. These veggie flavors were popular in the 1950s when gelatin was popular as both a sweet and a savory dish. Aspic, anyone?

Utah is the land of Jello. In all of the United States, Utah consumes the most Jello. It's even considered the state snack.

Source: 14 Things You Probably Didn't Know About Jell-O
Your Recently Viewed Recipes