Thai Glass Noodles Salad Recipe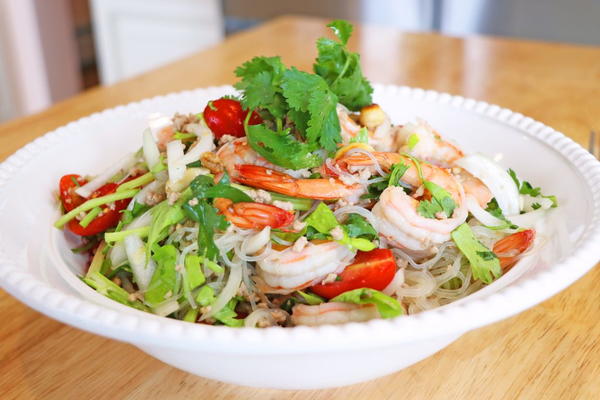 Thai Glass Noodles Salad Recipe
"Thailand is known as the Land of Smiles because of its genuinely happy and welcoming people. Bangkok is the capital of Thailand, and that is where I called home for 8 years of my childhood. One of my favorite Thai dishes is Yum Woon Sen. It is a beloved Thai salad dish. The word Yum literary translates to "mix," and it refers to a type of Thai salad. The words Woon Sen means glass noodles. Therefore, Yum Woon Sen is Glass Noodles Salad. I remember eating Yum Woon Sen in Thailand all the time. It is a dish that every home cook knows how to cook by heart. I had eaten it in school, over street food stalls, and in luxurious restaurants. Although they all made with similar ingredients, the tastes can be slightly different from one place to another. And one of my favorites was at a food stall in front of a giant shopping center, The Mall Bang Kapi."
Serves4 people
Ingredients
6 (1-ounce) glass noodles
1 (1-pound) shrimp
1 small onion
Instruction
Soak the glass noodles in water for 5 minutes. Drain the water. Set aside.

To make the dressing, mix together all the seasonings, bird eye chili peppers, and minced garlic.

In a small pan, add 1 tablespoon of vegetable oil, and stir fry the peanuts in low heat for about 2 minutes until lightly browned. Drain the oil and set aside.
Your Recently Viewed Recipes