The Best Funeral Foods: 21 Easy Potluck Recipes for a Crowd
These comfort food recipes will help take one thing off the minds of your loved ones during a difficult time.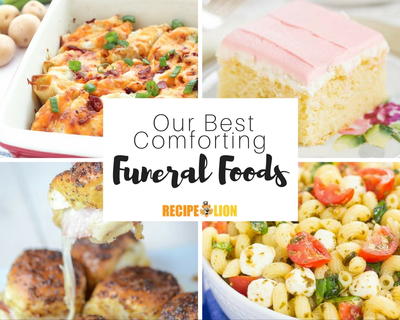 Funeral foods are best described as easy, comfort food recipes you can make and take with you to a funeral, wake, or other gatherings after someone has passed as a gesture of compassion and support. Casseroles are one of the best options out there when it comes to food for funeral receptions, so we've included a wide variety below. Additionally, we've included some easy-to-make sheet cakes and some other shareable dishes that are sure to help comfort those in mourning.

When someone has just lost a loved one, the last thing on their mind is food or cooking. The reality of the situation, however, is that food has a way of offering comfort, and it's the least the rest of us can do to help take care of our friends and family during the first few days of a passing. Be prepared with a list of comforting recipes and other funeral food to take to a grieving family when tragedy strikes.
 
Please also be sure to check out these great resources below for tips on freezing food. This information will come in handy for those who want to make multiple meals at once and save and defrost them later.
Table of Contents
Funeral Sandwiches
"What are funeral sandwiches?" you ask. Well, they're some of the most delicious sandwiches you can imagine. Usually, they are topped with ham, cheese, and a mustard sauce. Best of all, though, they are baked! These sandwiches are slider-sized, so they're the best potluck food because people can just grab them and eat them without making a mess.
Simple Shareables
These shareable dishes are classic recipes you'll recognize because they make an appearance at almost every potluck. You've probably even made them before. Deli salads are popular for a reason. They're easy to make, easy to share, and comforting to eat. Choose from one of the 4 below, and just keep it in the fridge till you're ready to go.
Loving this? Check out this recipe for Salad for a Crowd!
Note: This recipe is from RecipeLion Cooking Club. Non-members can access 3 free recipes every month. Subscribe to the RecipeLion Cooking Club for unlimited access to their entire recipe archive, featuring hundreds of exclusive recipes!

Funeral Potatoes
Funeral potatoes are the king of easy potluck recipes. Both cheesy and crunchy, they include an irresistible combination of flavors. Choose any one of these recipes for a comforting dish to bring to a wake or funeral.
Comforting Casseroles
We can't say enough good things about casseroles! They're just so easy to make and the possibilities are endless. The casseroles below are handpicked favorites of ours, because of their ability to put a smile on our faces and our... is it possible for a stomach to smile? If so, we're pretty sure these comforting casseroles could do the job. Make a tough time easier to get through with family, friends, and funeral foods like these.
Make and Take Desserts
Desserts may not be the first thing people think to make for their grieving loved ones, but they shouldn't be overlooked. While the casseroles and deli salads above are more substantial, desserts are very comforting too! Some people crave savory dishes, some crave sweets. For the latter, we've collected a few of our favorite, easy dessert recipes that we hope will bring comfort in trying times.
How to Freeze Food Properly and Other Food Freezing Tips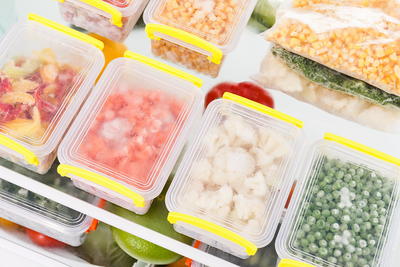 Bringing food to a grieving family is one of the best ways to help in their time of need. Grieving families are often too busy and too distracted to feed the family properly. This means food is a great way to take care of them.

One of the best ways to help after a loss is to offer foods that will keep. You will likely not be the only person to provide a meal, so giving a grieving family a meal they can eat a week or two from now is ideal. 

How to Freeze Food Properly and Other Food Freezing Tips

Check out the articles below for lots of great tips for freezing meals. And for more tips on how to freeze meals that will come in handy all year long, check our article Easy Freezer Cooking Tips and 21 Freezer Meal Ideas.
Food for a Crowd: History of the Potluck
Ah, the potluck. We've all probably been to a few in our day. Everyone brings a dish and shares in a meal together. Nice concept, but where did it come from? Let's take a look at the history of this tradition.

It began back in the Middle Ages as a term used to describe an impromptu meal one would serve to travelers or unexpected guests. In a time when very little was thrown out, these guests would be served leftovers or the "luck of the pot." On occasion, a potluck referred to a communal meal made by several people, where each cook brought something to contribute. This was usually thrown together in a pot and has been called "stone soup" and other variations over the years. 

Americans adapted this tradition around the late 19th century and the concept of people each bringing a prepared dish to share took hold. Today, potlucks are held for all sorts of reasons. Holidays and other large, celebratory gatherings often prompt the need. Having a potluck is a super cost-effective way to provide food for a crowd, and in theory, everyone should have plenty to munch on and leave fully satisfied.


Potluck Hazards:

1.   People with diet restrictions or allergies are more than likely not going to be able to eat much at a potluck.

2.   Potlucks are often free-for-alls, which leads to duplicate dishes. Did you want 6 chicken casseroles? Because here they are. 

3.   Sometimes, no one is manning the event or the person in charge doesn't have the proper food-safety training. How long has that mayonnaise-based potato salad been sitting out? Yikes! 


Be a Pro at the Potluck:

1.    If you volunteer to bring food, make sure it's ready to serve when you get there. Don't bring something that will need to be defrosted or reheated.

2.    Bring all the tools you'll need; don't expect them to have tongs or a serving spoon.

3.    Don't show up with a bag of groceries and expect to cook there.

4.    If you don't want to cook, bring something else! Showing up empty-handed is bad etiquette. This is what store-bought fruit, veggie, and cookie trays were invented for.

5.    If you are hosting the potluck and people leave their dishes with you. Make sure to wash and return them in a timely manner. 

6.   If you are attending a potluck, on the other hand, bring disposable containers when possible to avoid lost or broken dishware and easy cleanup.
Your Recently Viewed Recipes
Join our community of 5 million cooks!
Get free recipes, exclusive partner offers, and more.
Thank You for Signing Up!
There was an issue signing you up. Please check your email address, and try again.