Royal Family Pecan Pie Bread Pudding
The dessert recipe fit for the Royal Family can now be made in your kitchen!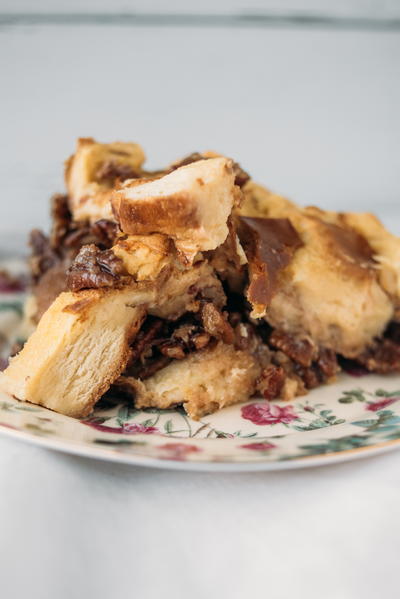 Royal Family Pecan Pie Bread Pudding
This Royal Family Pecan Pie Bread Pudding is a lovely dessert recipe that combines two delicious things: classic bread pudding and pecan pie. While we are inclined to prepare this dish around the holidays, but you are encouraged to make it whenever the mood strikes! It's super easy to make this bread pudding, and you only need a few ingredients. The bread pudding comes out nice and moist on its own, but the brown sugar coated pecans really make this recipe one that your relatives will be talking about for years. Take a page out of the Royal family's holiday cookbook, and serve this dish to your family this season.
Ingredients
1 (16-ounce) loaf of day-old Challah bread, cubed
2

1

/

2

cups unsweetened almond milk

1

/

2

pint heavy cream
4 eggs, lightly beaten
1 cup granulated sugar
1 tablespoon vanilla

1

/

8

teaspoon salt

1

/

2

cup softened butter
1

1

/

2

cup packed brown sugar
1

1

/

2

cup pecan halves
Instructions
Preheat oven to 350 degrees F.

In another bowl, beat eggs, milk, half and half, sugar, salt, and vanilla. Pour over the bread and allow to sit 5 to 10 minutes

In another small bowl, combine with a fork, softened butter, brown sugar, and pecans. This mixture will have the consistency of wet sand.

Pour half of the bread mixture into a greased baking dish. ​Top with the pecan mixture.

Spoon remaining bread mixture over and top with remaining pecan mixture. Press down into pan slightly. Pan will be quite full.

Top with remaining pecan mixture.

Bake for 45 to 55 minutes. Place a baking sheet under the dish, as it may bubble over.

The center will be slightly jiggly but will set when cool.

Allow to cool 20 to 30 minutes before serving so that the slices will hold together.
What Does the Royal Family Eat?
It's no surprise that the Royal Family is very conscious about their diet. What may surprise you are the strange eating habits and strict dining rules that they follow.
 
Rule #1: No one starts eating until the Queen does. Once the Queen is done eating, so is everyone else.
 
This rule only applies to formal dining settings. When the Royal Family is hosting a public event, every cue is taken from the monarch. You sit when the Queen sits, stand when the Queen stands, and only eat if she begins eating first. And when the Queen decides she is done eating, you had better be finished too!
 
Rule #2: Dinner is a formal affair – so dress accordingly.
 
Remember in Downton Abbey, when the family would get dressed up just to eat dinner with each other? Well, so does the Royal Family.
 
Rule #3: No shellfish or tap water allowed.
 
This rule is in place due to the rigorous travel schedule kept by the Royal Family. Shellfish and tap water, especially in foreign countries, are a big risk. It's safer to stay away than risk food poisoning. Of course, not everyone follows this rule religiously – Prince Charles occasionally treats himself to shellfish for dinner.
 
Rule #4: No garlic on the menu. Ever.
 
This is simply a personal preference of Queen Elizabeth. She "hates the smell of it, hates the taste of it." And it's a notorious cause of bad breath – hence the palace-wide ban on this particular spice.
 
Even though the Royal Family has more dining rules than the average citizen, at the end of the day they are still just people. And everyone has their own favorite foods that they enjoy!
 
1. Queen Elizabeth's favorite foods include dark chocolate and mangoes. Apparently she always knows exactly how many mangoes are kept in the fridge at Buckingham Palace.
 
2. Prince Charles is a big fan of organic food. His father, Prince Philip, was not as keen on this dieting trend.
 
3. Princess Diana used to have the palace chef create low-fat versions of the meals that were being served to everyone else. No one else knew that Diana was secretly eating a much healthier meal!
 
4. The young Princes William and Harry loved fast food. Princess Diana used to take them to McDonald's so that they could get Happy Meal toys.
 
Your Recently Viewed Recipes
Join our community of 5 million cooks!
Get free recipes, exclusive partner offers, and more.
Thank You for Signing Up!
There was an issue signing you up. Please check your email address, and try again.