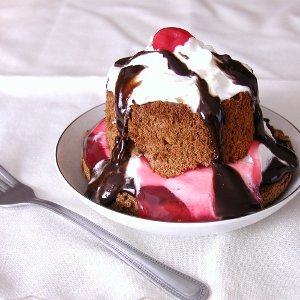 Chocolate Angel Cakes
If you are looking for delicious chocolate cake recipes, then we have just the thing for you. Chocolate Angel Cakes are a piece of heaven. Made with Angel Food Cake mix, the result is a soft and fluffy cake that is absolutely incredible. With a touch of cocoa powder added to the mix and topped with your favorite toppings, this is a recipe for chocolate lovers. Make sure to add chocolate syrup, whipped cream, and cherry pie filling to add color and that extra special touch.
Ingredients
16 ounces box Angel Food cake mix
2

1

/

4

cups cold water, divided
1 cup cocoa powder, divided
1 cup granulated sugar

1

/

4

teaspoon salt

1

/

2

tablespoon vanilla extract
1 can (6.5-ounces) whipped cream
1 can (20-ounces) cherry pie filling
Instructions
Preheat oven to 350 degrees F.

Mix cake as directed adding 1/2 cup cocoa powder.

. Spoon mixture into ungreased fluted pan, filling 3/4 full; bake for 30 minutes. Tip pan on side and cool on wire rack for 30 minutes.

In a heavy saucepan over medium heat add 1/2 cup cocoa powder, sugar and salt; whisk well. Add 1 cup water and simmer until thickened.

Remove from heat and add vanilla; whisk until well combined.

Remove cake from pan with knife and set on serving dish. Top with chocolate syrup, whipped cream and cherry pie filling.
Your Recently Viewed Recipes