Why You Should Thaw Your Frozen Hash Browns Before Cooking (& How)!
Thawing hash browns will guarantee that you have the tastiest dish possible and that they are cooked all the way through.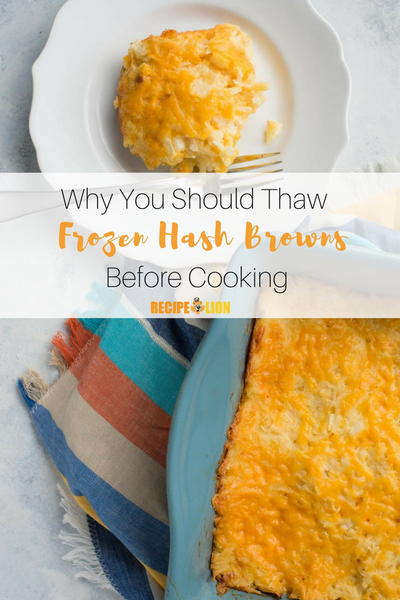 Thaw Your Frozen Hash Browns
Frozen hash browns are a cheap and versatile ingredient that is easy to store in bulk. Having these on-hand make it crazy easy to bake a last-minute breakfast casserole at a moment's notice.

Like many frozen ingredients, however, frozen hash browns should be thawed before they are baked into a casserole or used in another dish. Thawing hash browns will guarantee that you have the tastiest dish possible and that they are cooked all the way through. No one likes biting into a dish for an ice cold bite of potato.

Thawing out frozen ingredients before cooking also allows you to remove the excess moisture. This is especially important when you are making a layered casserole.

If you take a shortcut and do not thaw out your hash browns, you could end up with a soggy casserole after the water has baked out of the potatoes.

Love hash browns? Try this Cornflake-Topped Breakfast Casserole!
Note: This recipe is from RecipeLion Cooking Club. Non-members can access 3 free recipes every month. Subscribe to the RecipeLion Cooking Club for unlimited access to their entire recipe archive, featuring hundreds of exclusive recipes!


Hungry for more great cooking tips and recipes? Sign up for our free RecipeLion Quick & Easy Recipes email newsletter!

How to Thaw Frozen Hash Browns
In the Microwave
In order to thaw hash browns in the microwave, simply place your hashbrowns on a plate in one flat layer. You can either use one big plate or microwave a few plates of hash browns. You should microwave every cup for about 30 seconds.

Note: If your hash browns are especially soggy, dab them with a paper towel before putting them in your recipe.

This is the quickest way to prep your hash browns for your recipe! 
In the Fridge
To thaw your frozen hash browns in the fridge, lay them out on a cookie of baking sheet atop a paper towel overnight. Make sure they thaw for at least 8 hours. Dab them dry before placing in your recipe.

If you know you will make a hash brown casserole the next day, defrost your hash browns overnight in the fridge.
On the Counter
To defrost hash browns on the counter, simply measure out the portion of potatoes you will need for the recipe, place them in a bowl, cover it, and let them sit for about 30 to 45 minutes. Depending on the temperature of your home, they may need more or less time. Be sure to dab them off with a paper towel before adding to your recipe!

This is the easiest way to defrost or thaw out frozen potatoes. 
Frozen Hash Brown Casserole Recipes
Check out some of our tasty breakfast casserole recipes and more! These yummy recipes are easy to make and all of them use (thawed) frozen hash browns.
Your Recently Viewed Recipes