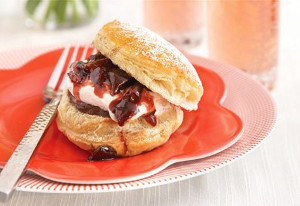 Puff pastry is a delicious ingredient to use in both savory and sweet recipes. It can be used as an ingredient to make easy appetizer recipes, tasty entrees, and decadent desserts. This collection of 10 Puff Pastry Recipes includes quick and easy recipes anyone can make. The Baked Chinese Egg Rolls are a party-favorite and kids will go crazy for the Baked Monte Cristo Sandwiches. Puff pastry desserts like Amazingly Easy Lemon Cream Puffs and Southern Muffin Tin Dessert Bites are simple to make and designed to impress.
You do not need to be a master chef to use puff pastry dough. The frozen ingredient looks extravagant, but is actually simple to use in a variety of recipes. These crowd-pleasing puff pastry recipes will be all anyone can talk about at your next dinner.

10 Puff Pastry Recipes
Table of Contents
Puff Pastry Appetizers
Puff pastry can be used to make an easy finger food recipe that is perfect for a party. Fill puff pastry with your favorite meat or veggies for the best appetizer recipe.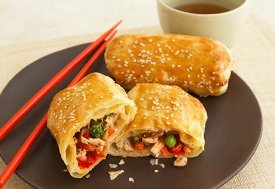 Beefy Taco Pillows
You might be thinking that "pillows" is a strange way to describe food, but these fun little puffs poof up into pillow-like rolls when they are baked.
Baked Chinese Egg Rolls (pictured above)
These delicious, puff pastry egg rolls are baked, not fried - plus they're filled with a tempting chicken and vegetable combination that's perfectly seasoned with a touch of prepared sesame-ginger salad dressing.
---
Have you ever tried making Puff Pastry Baked Brie? It's a great recipe for entertaining during the holidays and at parties.
---
Puff Pastry Entrees
Puff pastry can even be used to make simple dinner recipes the whole family will love. Almost any dinner recipe can be made into a delicious puff pastry recipe.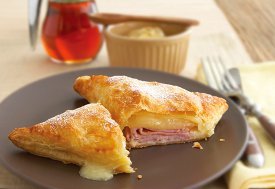 Better Than Mom's Turkey Pot Pie
This easy-to-make comfort-food classic gets sophisticated with a flaky, herb-scented, puff pastry crust. It's just like mom's...only better!
Baked Monte Cristo Sandwiches (pictured above)
Set aside the bread and serve this ham and cheese melt on puff pastry instead. Sweet and savory sandwich recipes never tasted so good...especially when topped with a sprinkle of confectioners' sugar.
---
For more easy recipes you're sure to love, try our free eCookbook, Easy Potluck Recipes: 14 Potluck Ideas For Sides, Desserts and More.
---
Puff Pastry Desserts
Puff pastry is light, slightly sweet, and makes a perfect addition to a dessert recipe. The airy dough can be used to make fruity dessert recipes and desserts with chocolate. The puff pastry works wonderfully with baked desserts and can also be fried for a crispy treat.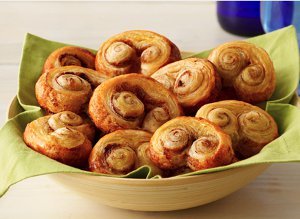 Amazingly Easy Lemon Cream Puffs
If you're looking to serve a dessert with a little bit of sophistication, try these Amazingly Easy Lemon Cream Puffs

Fantastic Cookie Bars
A puff pastry crust is a delicious way to add a sophisticated twist to a kid-favorite. Serve this cookie recipe at your next party, because this version will be loved by adults and kids alike!

Black Forest Whoopie Puffs (pictured at top)
If you have a sweet tooth, these Black Forest Whoopie Puffs are the perfect treat for you. Light and airy, these pastries are much less filling than traditional whoopie pies.

Southern Muffin Tin Dessert Bites
With just four main ingredients, this muffin tin dessert couldn't be easier to throw together. Southern Muffin Tin Dessert Bites are mini pecan tarts that use a puff pastry sheet, so they're perfectly flaky and light.

County Fair Elephant Ears (pictured above)
The best apart about going to the fair is eating all the delicious food you can handle. This easy recipe for homemade elephant ears will show you why this dessert pastry recipe is so popular amongst fair-goers.

Fruit Pizza Puffs
A flaky, golden puff pastry crust is filled with creamy vanilla pudding and topped with assorted fresh fruit, to make a colorful and fun Fruit Pizza.
Your Recently Viewed Recipes