Easy Lemon Pudding Cake
Running low on time? Lemon pudding cake to the rescue!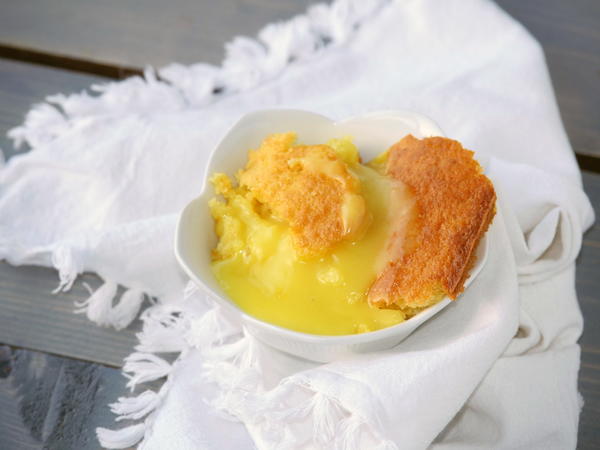 Easy Lemon Pudding Cake
Take that box of lemon cake mix to the next level with this Easy Lemon Pudding Cake! It's a delicious and simple cake recipe that uses lemon cake mix with a lemon pudding filling -- yum! 

Assembling this cake is as easy as mixing the batters and pouring them into a pan. Once it's baked, you'll have a light and fluffy lemon cake with a creamy pudding filling. Serve it warm for a treat everyone is sure to love.

Lemon pudding cake is great with a little bit of ice cream on the side or served with some fresh fruit. Plus, our short video will show you just how easy this tasty, citrus-flavored cake is to make.

Ingredients
1 box lemon cake mix
3 eggs
1

1

/

4

cup water

1

/

2

cup vegetable oil
2 (3-ounce) boxes instant lemon pudding mix
1

1

/

4

cup water
2 cups milk
powered sugar (optional)
Easy Lemon Pudding Cake Recipe
This cake is perfect for entertaining. For one thing, it makes your house smell amazing while it cooks. Who doesn't love the smell of sweet lemons filling the air? For another thing, it's so impressive to dish up a bowl of this warm cake to serve to your friends and family. The gooey lemon pudding will have everyone scraping their spoons in their bowls to get the last bit of goodness. A dollop of fresh ice cream only enhances this effect. Enjoy!
Instructions
Preheat oven to 350 degrees F and oil a 13x9-inch pan.
 

Add cake mix to a large bowl and make a well in the center. Add eggs, water and vegetable oil to the well, and mix until well combined with a handheld mixer. Pour batter into the prepared pan.  

In another bowl, add lemon pudding, water, and milk, and mix until well combined. Drop spoonfuls of the pudding mixture onto the cake batter, making sure to cover evenly. Using a spatula, spread out the lemon pudding.

Bake for 55-60 minutes. Remove from oven and let cool for 5 minutes. Sprinkle with powdered sugar and serve immediately. Refrigerate leftovers.
Your Recently Viewed Recipes