Turmeric Savoury Feta Cheesecake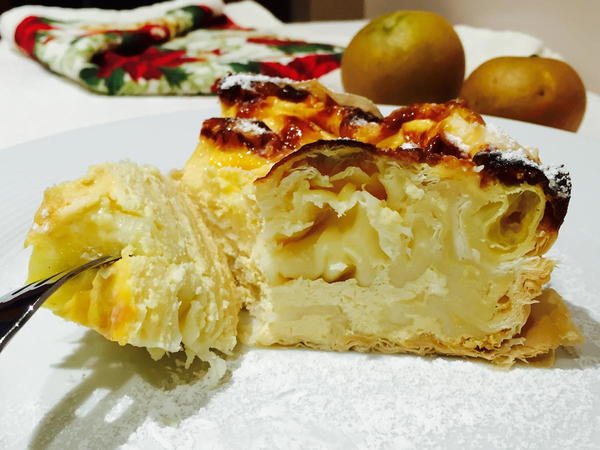 Turmeric Savoury Feta Cheesecake
"I call this turmeric feta cheese cake "savoury" because it hardly has any sugar. Very little and I like it a lot this way. You will see what I mean if you try it. I still call it cake because yet, it does contains some sugar and of course feel free to make it as sweet as you like!! So it becomes a truly sweet cake. Feel very free with the sugar to add as much as you like and personalize it to your very own taste."
NotesServe hot or cold with a little icing sugar on top if you wish and some creme fraiche, double creme, full fat yoghurt or simply plain as it comes out of the oven. Whichever way you decide to serve it it is absolutely delish! Bon appétit!
Serves10 People
Ingredients
400 g Fillo pastry (ready made)
800 g yoghurt (organic, full fat)
600 g feta cheese (organic)
7 large eggs (organic)
4 spoons cane sugar (organic)
1/3 tsp turmeric powder (organic)
50 g butter
20 g icing sugar (optional)
If the Feta cheese is pretty salty, put the cheese blocks into a container/large bowl and fill with cold water. Leave it for at least 1 hour to desalt.

Preheat the oven at 180 - 190 C higher if not fan assisted.

In a large bowl, with the help of a fork smash the desalted Feta cheese blocks, add 4 eggs, and mix well with half of the yoghurt quantity (400 g), add the turmeric. Turmeric is not only healthy but it gives it a beautiful color too!

Grease a dish (28 cm/ 20cm roughly) with some of the butter.

Place a layer of pastry containing 3-4 sheets together and then put a layer of the cheese mixture. Repeat this until you finish both mixture and pastry. Best to finish top layer with pastry. Since the pastry sheets are not going to be the size of the dish, there is no need to cut hem but just fold them in.

In the same bowl where the cheese mixture was you can pour the other remainder 400 g yoghurt with the rest of the eggs ( x 3) and whisk well until it is all very well incorporated.

Pour this yoghurt and egg mix over the last layer of pastry. Scatter the remainder of the butter on top (little knobs) sprinkle a spoon of Demerara sugar on top and place in the oven.


Bake for 45-50 minutes until it is nice' n golden brown on top.
Your Recently Viewed Recipes