Grandma's Icebox Fruitcake
Marshmallow and graham cracker fruitcake is a vintage classic.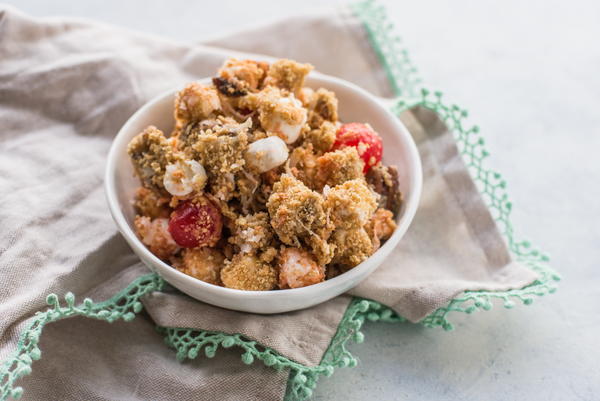 Grandmas Icebox Fruitcake
After we made this icebox fruitcake, and set it out in the kitchen for everyone to try, someone in the office wanted to know why the recipe is called "icebox cake." It's a great question! Icebox cakes get their name because you leave them in the refrigerator, or icebox, overnight. They're made with whipped topping, or in our case sweetened condensed milk, and wafer cookies of some kind. The cake is arranged so that the topping soaks into the cookies overnight, leaving you with a sweet, fluffy dessert!

This icebox fruitcake is made with graham crackers and marshmallows, plus several kinds of delicious fruit, for a version that is tropical and delicious. Give it a try!
Ingredients
1 box graham crackers (14.4 oz)
1 cup pecans
1 jar maraschino cherries (10 oz) drained, with juice reserved
1 cup golden raisins
1 cup shredded coconut, firmly packed
1

1

/

2

cup mini marshmallows
1 can sweetened condensed milk (14 oz)
Icebox Fruitcake Recipe
Instructions
Finely crush graham crackers.

Combine all ingredients in a large bowl and mix well. Add reserved cherry juice by the tablespoonful until the mixture comes together, but isn't too soft.

Turn out into a lightly buttered 9X13 dish and press flat into the pan with your hands.

Chill at least 6 hours in the refrigerator, then cut into bars.
Tips for Making Icebox Recipes
Icebox cake and pie recipes are a yummy way to throw together a make-ahead recipe for dessert. They're especially yummy and refreshing in the summer. Most of these yummy recipes are super easy to make. You just prep the recipe and put it in the fridge overnight. There are a few ways, however, to make sure your recipe comes out perfectly.
"Icebox" doesn't always mean the freezer. As long as a recipe does not specify that you should freeze the recipe, it likely means it should chill in the fridge for the suggested time.
 
Make sure your fridge is not too cold. A freezing cold fridge means the dessert will freeze instead of chill. Make sure that your fridge isn't leaving ice on the outside of other products.
 
Make sure your fridge is not too warm. This can often open when your fridge is over-stuffed (like when you stock it up for holidays).
 
There's a reason your desserts have to chill for a certain amount of time. Follow your recipe for chilling time. If your dessert says to chill for 6 hours, give it 6 hours! This makes sure your recipe cools and often hardens as much as it needs to. Would you take jello out too early and serve it? Nope. So, don't do that with your icebox recipe. It might look like it's done but will turn to slop when you scoop it out if you do not give it enough time.
Your Recently Viewed Recipes