Grandma's Famous Jimmy Cake
Jimmys (also known as sprinkles) give this cake some extra flair!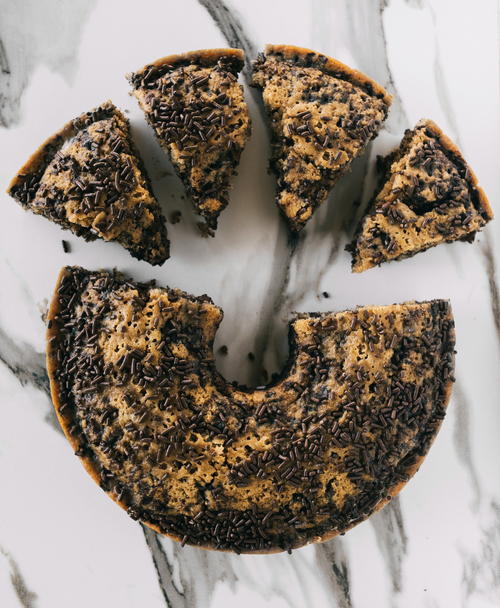 Editor's Note: There's just something extra special about recipes Grandma used to make. This tasty and easy cake recipe is no different. Grandma's Famous Jimmy Cake is a simple creation that leads to yummy and charming results. Jimmies, also known as sprinkles, allow you to add some extra flair to an already creative dessert. The recipe pictured used chocolate sprinkles, but you could easily substitute them for something bright and colorful!

"Jimmy" is just an old-fashioned word for sprinkles--and boy, does this recipe have a lot of those! I used chocolate sprinkles for my version, but if you prefer a single color or rainbow sprinkles, feel free to substitute those.
Serves12
Ingredients
4 large egg whites

1

/

2

cup vegetable shortening or coconut oil
8 tablespoons (1 stick) unsalted butter, softened
2 cups confectioners' sugar
4 large egg yolks
1 cup cold coffee
1 teaspoon espresso powder
1 teaspoon vanilla bean paste or vanilla extract
2 cups all-purpose flour

1

/

2

teaspoon kosher salt
2 teaspoons baking powder
1 cup chocolate sprinkles
2 tablespoons milk or heavy cream, plus extra if needed
1 teaspoon espresso powder
2 cups confectioners' sugar
Chocolate sprinkles, for decorating
Instructions:
Preheat the oven to 325°F. Grease a 16-cup tube pan.

For the cake: Using a hand mixer or stand mixer fitted with the whisk attachment, beat the egg whites on medium speed until the peaks stand straight up when the whisk is removed. Transfer to a separate bowl and set aside.

Switch to the paddle attachment, put the shortening and butter in the empty mixer bowl, and beat on medium speed until light. Add the confectioners' sugar and beat until combined. Scrape down the bowl. Beat in the egg yolks, coffee, espresso powder, and vanilla. On low speed, beat in the flour, salt, and baking powder. Stir in the sprinkles. Fold in the beaten egg whites.

Pour the batter into the tube pan and bake for 50 minutes to 1 hour or until the cake is golden and a toothpick inserted in the center comes out clean.

Let the cake cool in the pan for 10 minutes, then carefully remove and place on a serving plate to cool completely.

For the glaze: In a medium bowl, whisk together the milk and espresso powder. Whisk in the confectioners' sugar until smooth, adding more milk as needed for a pourable glaze.

Drizzle the glaze over the cake and decorate with sprinkles. Slice and serve.
Your Recently Viewed Recipes