Fluffy Cream Puff Cake
This pudding cake recipe uses one of our favorite ingredients - cool whip!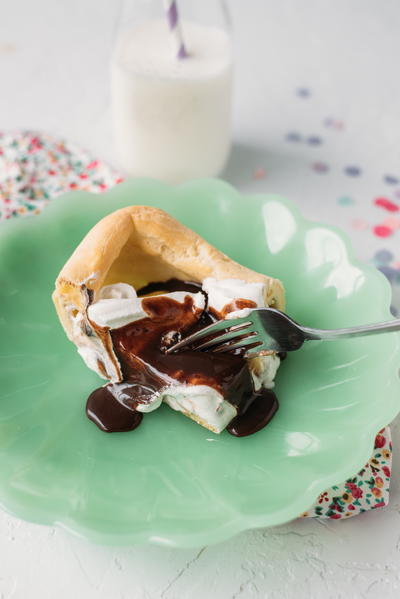 Fluffy Cream Puff Cake
One bite of this Fluffy Cream Puff Cake and you will fall in love. This easy dessert recipe combines pudding, Cool Whip, chocolate, and more for a play on your favorite French pastry that is a winner every time. This easy pudding cake doesn't take too long to come together. You have to cook the pastry dough "crust," but everything else simply chills in the fridge or freezer until it's set. This cream puff cake recipe is one of those desserts that will stand out from the rest for more reasons than one, but we're betting the biggest reason will be how darn delicious it is!

Ingredients
For the Eclair Dough
1 cup water
1 stick butter
1 cup all-purpose flour
pinch of salt
4 large eggs
For the Filling
1 (3.4-ounce) package French Vanilla instant pudding mix, plus ingredients called for on the pudding package
1 (8-ounce) container whipped topping
For the Chocolate Sauce Topping

3

/

4

cup milk

1

/

4

cup butter at room temperature
pinch of salt
1 cup sugar

1

/

4

cup cocoa powder
1

1

/

2

tablespoon cornstarch
Instructions
Combine water and butter in a 4-quart heavy saucepan and bring it to a simmer. Once the butter has completely melted, add the flour and stir well, then continue to stir over medium heat for 2 minutes.

Note: It is important to cook it the entire 2 minutes so that the flour will cook completely. The dough will stick to the sides of the pan and then form a ball; keep stirring and cooking.

After 2 minutes, remove from the heat and place dough in the bowl of an electric mixer. Allow to cool about 5 minutes. Then, with the machine running on low, add the salt and eggs one at a time, with time in between each addition. The dough will change in appearance from looking like scrambled eggs to a shiny batter. Continue to beat for about 2 minutes until it pulls away from the bottom or sides of the bowl.

Spread the dough into a greased 9x13-inch baking dish, pushing it into the corners and up to the sides.

Preheat oven to 425 degrees F and bake for 15-18 minutes. It should no longer look wet and should look lightly golden brown.

Return the pan to the oven with the heat off, leave the door ajar and allow to cool to room temperature.
Your Recently Viewed Recipes