Awesome Recipes for Goulash: 23 Cozy & Cheap Eats
Goulash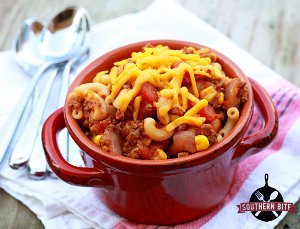 , traditionally a Hungarian dish with meat and vegetables, can come in all sorts of variations and each recipe for goulash puts its own unique spin on the meal. In this collection of Awesome Recipes for Goulash, you'll find 23 Cozy & Cheap Eats that will fill you up and leave you more than satisfied. So grab a fork and dig in because these recipes for goulash are not to be missed! Whether you are making a little for yourself or making a large pot for the whole family, these easy goulash recipes are sure to hit the spot. There's something special about goulash because it's just as comforting as soup but with more ingredients, making it hearty and filling enough for a meal. These recipes are perfect for warming you up on those chilly winter days.
---
For even more meaty dinners, check out our free eCookbook, 21 Meaty Slow Cooker Recipes for Dinner.
---

Awesome Recipes for Goulash:
23 Cozy & Cheap Eats
Table of Contents
Simple Goulash Recipes
Experience the delicious flavors of traditional goulash but skip the difficult prep work with these easy goulash recipes. No one said you have to slave all day in the kitchen to make a delicious goulash dinner. With these simple recipes for goulash, you can make your family an ultra satisfying dinner without spending all day at the stove.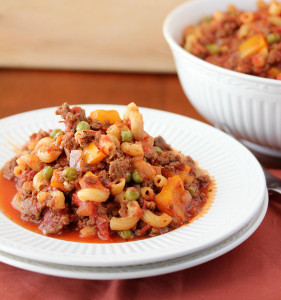 Homestyle One-Pot Goulash - It's easy to see why this goulash is a crowd pleaser every time it's served.

Mom's Comforting Goulash - You're sure to be taken back to the days of your Mom's home cooking with this recipe.

Grandma's Goulash - Cooked in one pot so there's less to clean up.

Bobby Deen's Favorite Goulash - Made with ground beef, macaroni noodles, tomatoes and a delicious seasoning combination.

One-Pot Old-Fashioned Goulash - (shown) This classic goulash recipe is even better than the comforting dish you grew up with.

Italian Surprise Goulash - A delicious twist on traditional goulash recipes.

Old-Fashioned German Goulash - Classic flavor with an old world influence.
German and Hungarian Goulash Recipes
The old-fashioned version of goulash is sometimes the best version. With these traditional German and Hungarian goulash recipes, you'll get that classic, old-world flavor that many typically associate with goulash. No bells and whistles here, just straightforward, great tasting goulash! Make any of these gratifying goulashes for a hearty dinner that the whole family will love.

Dad's German Goulash - (shown) This meal is a favorite with husbands.

Oma's German Goulash Soup - With hearty chunks of beef, potatoes, and peppers in a tomato broth, this easy soup recipe is filling and perfect for those cold winter nights.

World's Easiest Hungarian Goulash - Preparing goulash doesn't get much simpler than this!

All Day Hungarian Goulash - Traditional Hungarian flavors are packed into this awesome slow cooker meal.
Slow Cooker Goulash Recipes
Put your slow cooker to use to make these hearty all-day goulash recipes. Slow cooking your meat is one of the best ways to bring out the flavor, which is why recipes for goulash that are made in the slow cooker are some of the best ones out there.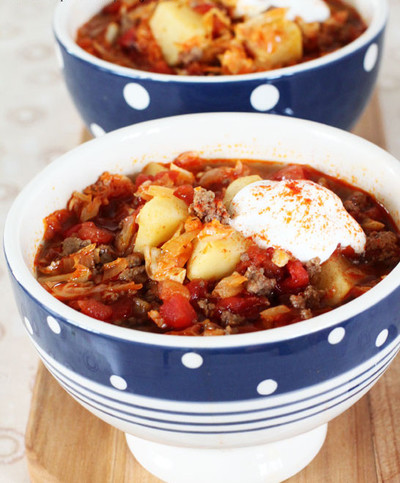 Slow Cooker Goulash Soup - (shown) Your favorite goulash turned into soup!

Loaded Pork Goulash Stew - Make a tasty variation of traditional goulash with this pork-filled soup recipe.

All Day Gratifying Goulash - You're sure to be satisfied with this incredible slow cooker goulash recipe.

Drunken Beef Goulash - A can of lager beer sets this beef goulash apart from all the others.

Slow Cooker Hungarian Goulash - Use your slow cooker to make an effortless version of this old-fashioned dish.

Anna's Slow Cooker German Goulash - The beef is slow cooked in a delicious gravy until it's super tender and full of flavor.
---
There are more old-fashioned dinners in our collection of 7 Easy Salisbury Steak Recipes.
---
American Style Recipes for Goulash
Put an American twist on the Hungarian classic with these American style goulash recipes. Sometimes it's fun to change up a traditional recipe and add new flavors and ingredients. Try one of these U.S.-influenced goulash recipes and you may find you like them better than the original. Keep in mind that you don't always have to use beef when you're making goulash either. If you want something a bit on the lighter side or if you're simply tired of beef, try one of our chicken goulash recipes for a little break from the norm.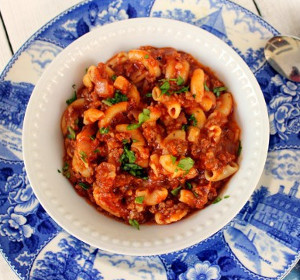 One-Pot American Goulash - (shown) This 30-minute meal is an excellent weeknight dinner.

American Goulash - You'll want to keep this easy goulash recipe on-hand for those days when you need a cozy meal to feed your family.

Beggar's American Goulash - A budget-friendly goulash recipe that doesn't skimp on flavor.

American Style Goulash - The whole family is sure to love this American version of traditional Hungarian goulash.

Chicken Goulash on Sour Cream Crust - A flaky, tangy crust plus tender chicken make this goulash recipe shine.

Gratifying Chicken Goulash - You won't miss the beef at all; this chicken goulash recipe is one of our favorites!
Your Recently Viewed Recipes