Super-Easy Crab Puffs
Your guests will never know how easy it is to make these baked crab puffs.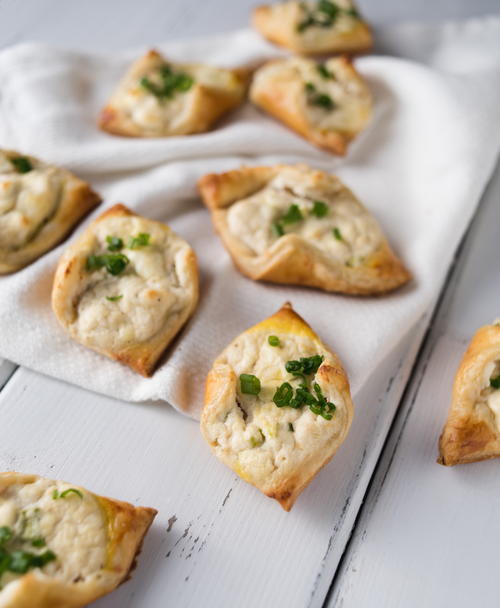 Super-Easy Crab Puffs
A good savory appetizer can be hard to find, especially when you don't want to spend all afternoon prepping it in the kitchen. That's why we made these easy crab puffs, which are completely delicious and also completely easy to make. One thing that makes this recipe so simple is that these are baked crab puffs. There's no need to stand over a hot stove cooking up this appetizer. Just assemble the ingredients, (which include some amazing secret flavors) and let them bake while you get ready for your party!

From the Chef: "This seems like the kind of appetizer Mad Men's Betty Draper would serve at one of her 1950s dinner parties while sipping a Vodka Gimlet. These bite-size snacks are ideal for munching on while milling about and hearing the latest gossip from your friends and family."
- Addie Gundry

This recipe is from RecipeLion's 103 Cookbook series, Retro Recipes from the '50s and '60s: 103 Vintage Appetizers, Dinners, and Drinks Everyone Will Love.
Ingredients
3

/

4

(8-ounce) package cream cheese, at room temperature
1 tablespoon sour cream
12 ounces canned crabmeat, drained
2 green onions: 1 minced, 1 chopped
1 garlic clove, minced

1

/

2

teaspoon lemon zest
2 teaspoons fresh lemon juice

1

/

2

teaspoon Worcestershire sauce
Kosher salt and freshly ground black pepper
All-purpose flour, for dusting
1 sheet frozen puff pastry, thawed
1 large egg, mixed with a little water
Instructions:
Preheat the oven to 400°F. Line a baking sheet with parchment paper.

In a medium bowl, combine the cream cheese, sour cream, crabmeat, minced green onion, garlic, lemon zest, lemon juice, Worcestershire, and salt and pepper to taste. Mix well.

Lightly flour a work surface. Roll out the pastry to about a 12-inch square. Cut into 16 squares.

Fill each square with about 2 tablespoons of the crab filling.

Fold the dough over on each side of the square to create a raised, open cup.

Brush each pastry with the egg. Place on the prepared baking sheet.

Bake for 20 minutes until puffed and golden.

Sprinkle with the chopped green onion. Serve.
What is your favorite finger food to serve?
Let us know below in the comments!
Your Recently Viewed Recipes