Easy Homemade Mac and Cheese Balls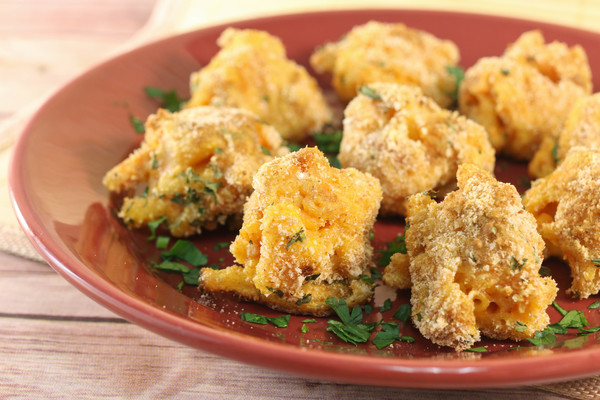 Easy Homemade Mac and Cheese Balls
If you need ideas for a new way to prepare an old favorite try this recipe for Easy Homemade Mac and Cheese Balls. This easy baked macaroni and cheese recipe is a crunchy-on-the-outside-gooey-on-the-inside way to enjoy this classic recipe. This is a great snack to make for your kids or serve at a party. These bite-sized treats are perfect for dipping in your favorite sauce and can be baked in under 20 minutes! Try this delicious recipe out today for a spin on an easy recipe from your childhood.
Notes
I used a Mexican spice blend while making the balls and then served them with a jarred salsa, but you could use an Italian spice blend and dip them in warmed pizza sauce, or simply use your favorite prepared condiment.
Makes20 balls
Ingredients
1 (6-ounce) package mac and cheese plus ingredients called for on the package
2 tablespoons vegetable oil, divided
1 cup bread crumbs
2 tablespoons grated Parmesan
2 tablespoons dry parsley flakes

1

/

2

teaspoon cayenne pepper, pepper flakes or a seasoned dry herb mix you prefer (see note)

1

/

2

cup all purpose flour
2 beaten eggs
Instructions
Make the mac and cheese per directions on the box, adding teaspoon cayenne pepper to the mix (if desired). Remove from the cooking pan and store in a 1 quart storage container in the refrigerator at least 8 hours to become very firm - it must be very well chilled before continuing.

When ready to bake, reheat oven to 425 degrees F. Line a baking sheet with foil and rub with at least 1 Tablespoon of the vegetable oil - reserve the rest of the oil.

Place bread crumbs, Parmesan cheese, and dry herbs into a shallow bowl. Place flour into another bowl, and the eggs into a third bowl.

Use a small ice cream scoop or a tablespoon measure to scoop balls of the mac and cheese, one by one forming them in your hands which have been rubbed with the remaining oil. Drop each ball into the flour, then into the egg, then into the bread crumbs, rolling in your oiled hands and then place them an inch apart on the prepared bake pan. Continue until all of the mac and cheese are used you should have about 20 small balls.

Bake for 10 minutes. Check them and continue 7 10 minutes until balls are lightly browned be sure they do not burn on the bottom.

Serve immediately as is or with a dip of your choice.
Your Recently Viewed Recipes