Baked Crab Rangoon Recipe
This easy crab rangoon recipe with cream cheese is simple to make and tastes just like the restaurant versions.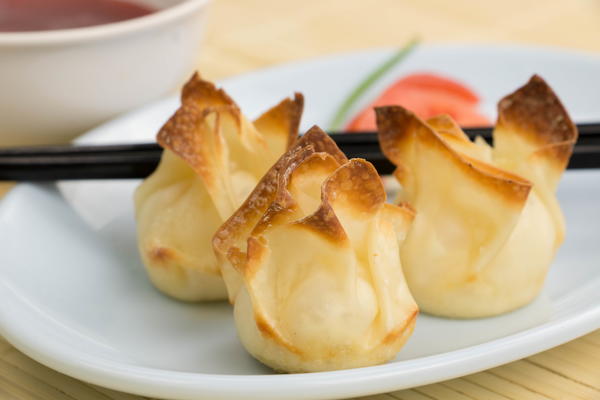 Baked Crab Rangoon Recipe
Crab Rangoon is a universally-beloved appetizer that is a staple at many Chinese restaurants. Make this delicious treat at home with this easy baked crab rangoon recipe. Unlike typical crab rangoons (which are fried), these are baked in the oven. This means that they are easier to make and also a little bit healthier. Instead of ordering take-out the next time your Chinese food craving kicks in, make it yourself! You'll realize it isn't as hard as you might think. We've even included video, so you won't miss a beat!
Makes50

Ingredients
8 ounces cream cheese, low-fat if preferred, softened
6 ounces canned crab meat, very well drained
2 green onions, very finely chopped
1 clove garlic, very finely minced
2 teaspoons Worcestershire sauce
2 teaspoons soy sauce
1 container refrigerated wonton skins
Prepared sweet-and-sour sauce for serving
Baked Crab Rangoon Recipe
Instructions
Preheat oven to 425º F.  Spray mini-muffin pan(s) with cooking spray.

In a medium bowl, stir together the cream cheese, crab meat, onions, garlic, Worcestershire sauce and soy. 

Open the package of wonton skins, and use only two or three at a time, keeping the rest covered while you work. Place the skins on a work surface and use the tip of your finger to moisten the edges.

Spoon about 2 teaspoons of the filling into the center of each then pull the corners up to meet and twist lightly to form a "pouch." Place each wonton into the muffin pan and repeat to use all of the filling and skins.

When all of the rangoons are formed, spray lightly with cooking spray.

Bake for 12 – 15 minutes until crispy, serve immediately with sweet and sour sauce.
Your Recently Viewed Recipes