Blast from the Past Broccoli Bites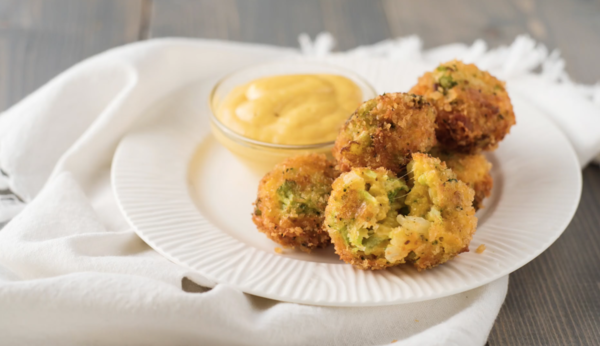 Blast from the Past Broccoli Bites
Blast from the Past Broccoli Bites are the perfect game day snack. These little breaded cheesy broccoli bites are a great appetizer for parties, holidays, and potlucks. You won't believe how quickly these little munchkins will disappear. You can choose your favorite dipping sauces, but we recommend honey mustard. The sweet and tangy sauce perfectly complements the cheesy broccoli and will satisfy all the guests at your party. This is a deliciously-craveable appetizer that you just won't be able to resist after you take the first bite! See what all the fuss is about with this tasty recipe.

Ingredients
3 eggs
1 cup shredded Colby cheese
1 cup shredded Cheddar cheese
1 (16-ounce) boxes frozen chopped broccoli, thawed
6 slices bacon, cooked and crumbled
1 ounce all-purpose flour
salt and pepper to taste
Italian breadcrumbs, as needed
oil for frying
prepared honey mustard sauce for dipping
Instructions
In a large mixing bowl, place all ingredients except bread crumbs. Mix until all ingredients are well combined.  

Refrigerate mixture for at least 1 hour.

Heat oil in a large skillet over medium-high heat until oil reaches 350 degrees F.

Pour breadcrumbs into a shallow dish.  Remove broccoli mixture from the fridge, and roll into 1-inch balls.  Roll each ball in the breadcrumbs.

Fry balls in oil, turning as needed until golden brown all around.

Drain on paper towels and sprinkle with salt. ​Serve with honey mustard dipping sauce.
 
Your Recently Viewed Recipes