From Our Readers: 10 Ways to Use Your Thanksgiving Leftovers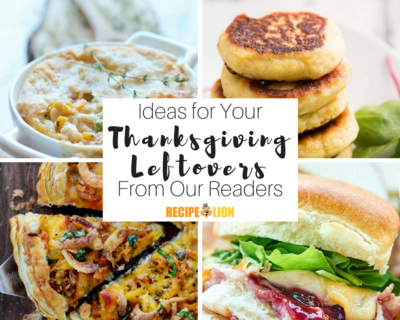 We recently asked our readers, "What do you do with Thanksgiving leftovers," and we are amazed by what you came up with! Thanksgiving leftovers are sometimes inevitable. We often have too many appetizers and too little self control, so we are left with quite a hefty amount of leftovers to deal with. We are excited to get creative with ideas that came from you, our RecipeLion newsletter readers! From leftover turkey recipes, awesome ways to use leftover mashed potatoes, to wildly tasty recipes - you now have plenty of ideas and recipes to use up your Thanksgiving leftovers. 

If our readers weren't enjoying Thanksgiving Dinner Round 2, they were bringing their leftovers to friends, neighbors, and local kitchens to share during a giving time. Let us know in the comments what you choose to do with your Thanksgiving leftovers!

Want to be included in our next reader spotlight? Sign up for the RecipeLion newsletter, Quick and Easy Recipes. You'll receive amazing recipes on a weekly basis and have your chance to share your cooking tips, family recipes, or even a few memories. Have your own recipe you'd like to submit? Click here to submit.

*Disclaimer: Names have been changed to respect our readers' privacy and responses have been edited for quality and length purposes.
Table of Contents
Leftover Turkey Recipes & Ideas
From Our  Readers:

"We used to do the traditional leftover things, turkey casseroles and turkey pot pies both of which we still do but last year we had just gotten a new sandwich press so the Thanksgiving burrito was born. You take a flour tortilla lay flat add a liberal spoon of dressing, then shredded turkey then top with your best pan drippings gravy. Fold it so both ends close then grill in the hot sandwich press. Serve with leftover cranberry sauce for dipping." Jenny*

"Turkey pot pie is a favorite of my family. Just cut your leftover turkey in small cubes and add your favorite vegetables into a pot and top with a flaky crust." Mary*

"I eat our leftover turkey by itself or maybe when it gets really down, I make turkey salad with mayo, onions, garlic powder, salt, and pepper." Travis*

"I make a casserole of left over turkey with stuffing and gravy - this is one of our favorite ways to use our leftovers. Then of course, you can boil the turkey carcass and then you have the start to a fantastic turkey soup." Thea*

Looking for recipes to test out ideas from our RecipeLion readers? Check a few out below:
Leftover Thanksgiving Sides
"I eat the stuffing as is with maybe some jarred gravy added (if necessary). I also eat the squash separately. Pies are eaten alone as well , but with my family there aren't a lot of leftovers!" Denise*

"What I do is...Cut fresh and or leftover vegetables into large pieces, add leftover pieces of white and dark meat (make sure to include some green vegetables)! Top with leftover stuffing mixed with chunky mashed potatoes, cover with tomato, onion or cream of mushroom soup (only slightly diluted), top with grated cheese. Bake at 350 degrees for about 20-30 min., till hot and bubbly."  Maria*
Did you know gravy is easy to reheat if you just know how? Try our easy method.How to Reheat Gravy
Other Ways to Use Thanksgiving Leftovers
"There are so many people in our family that we hardly ever have leftovers, if we do - we immediately have them the next day!" Mark*

"What do I do with leftovers? Several things! First, there is the 'basically everything you ate for the big meal' sandwiches. Then, there's BBQ turkey sandwiches with coleslaw. I also make a hearty soup with left over everything (the stuffing and mashed potatoes thicken and season the soup). You can never forget that hot turkey sandwhiches are always a good choice..." Lois*

"I do a few things with our leftovers, actually! First, I remember to save the turkey carcass to help make the start of an amazing turkey soup (or bone broth). Then, I bake a casserole made of the leftover turkey, stuffing, and most important...gravy." Linda*

In addition, many readers suggest that they will package up their leftovers and donate them to the local food pantry, retirement homes, or to neighbors and friends that live alone. Afterall, Thanksgiving is in the season of giving!
Don't just throw away that left over turkey. Make soup out of it! After a busy holiday full of rich food and hours spent in the kitchen, this turkey soup is a lighter option to take advantage of leftover meat while only requiring 15 minutes of prep! Try out this recipe forWild Rice and Leftover Turkey Soup
What do you do with your Thanksgiving leftovers?
Your Recently Viewed Recipes
Join our community of 5 million cooks!
Get free recipes, exclusive partner offers, and more.
Thank You for Signing Up!
There was an issue signing you up. Please check your email address, and try again.