Get Well Soup
Nothing helps us feel better during a cold, than some hot and tasty soup!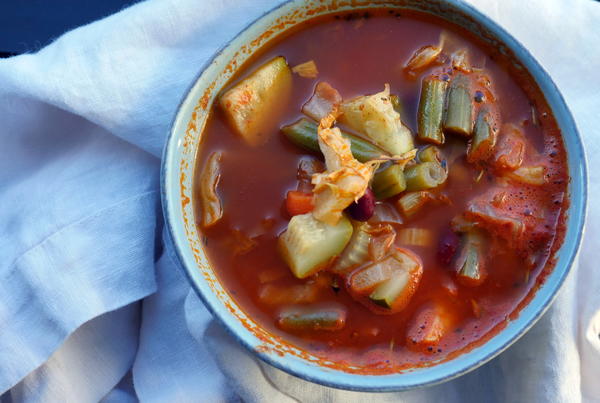 Get Well Soup
Get Well Soup is here to make you feel better on those days when you're a little under the weather. This fully loaded vegetable soup is tomato-based and packed with all kind of vitamins and nutrients.

Once you've had a few bowls of this magical healing soup, you'll be on the road to recovery in no time. And, you don't have to be sick to enjoy this soup! This is a delicious homemade soup that is great to make in bulk during the cold winter months and eat throughout the week for lunch or dinner.

Make sure to grab your favorite bread or rolls from the store so you have something to soak up any leftovers from your bowl.

Ingredients
2 tablespoons olive oil
1 small onion, chopped
2 cloves garlic, minced
1 cup chopped baby carrots
2 stalks celery, chopped
1 zucchini squash, diced
2 cups green beans (fresh or frozen)
1 (14-1/2-ounce) can kidney beans, drained and rinsed
3 cups cabbage, shredded
2 (14-1/2-ounce) cans chicken broth
3 cups tomato juice (V8, homemade, or other store bought)
2 teaspoons Herbes de Provence
salt and pepper, to taste
Instructions
In a large pot, heat olive oil and saute onion, garlic, carrot, and celery until soft.  Add green beans, zucchini and kidney beans.  Stir in broth and tomato juice.  Bring to a boil and reduce heat to simmer for 15 minutes.
 

Stir in shredded cabbage and Herbs de Provence and allow to wilt for 10-15 minutes. Add salt and pepper to taste. Serve hot.
 
Your Recently Viewed Recipes