Sweet and Salty Homemade Coconut Popcorn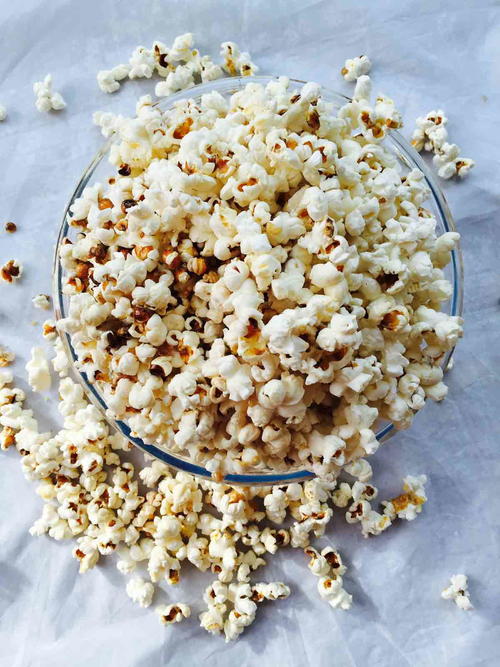 Sweet and Salty Homemade Coconut Popcorn
"You may think I've lost the plot coming with a popcorn recipe, but I've recently realised, after speaking to a few mums, that they never bother making popcorn at home because they think it is too much work and they never get it right. Instead, they buy this microwaveable popcorn that is actually listed on the top 10 "NEVER EAT" food list, because of all the rubbish and unhealthy stuff added to it. What worries me the most is the fact that popcorn is a snack that children love eating, loads of it sometimes, and many parents are choosing to give them all those microwaveable ones, something absolutely dreadful."
NotesTips on making the perfect popcorn:

• Make sure the kernels aren't too old or humid, as they will not pop at that 100% rate.

• Oil, butter, coconut oil or the ghee (depending on what you choose to use), has to be pretty hot (not smoking) when you pop the kernels in.



• Make sure you pop the lid and leave a slight crack on the side.

• Don't forget to give the pot a shake or two during the popping, so all kernels get a chance to pop (they will only pop if they touch the hot bottom of the pot).

• Although cast iron could be one of the best pots to choose when deciding to make pop corn, this isn't necessary but the thicker the bottom the better.


Serves4
Ingredients
Per batch:40 g corn kernels
1 tbsp coconut oil
Alternative flavors, choose either:1/6 tsp salt (Himalayan, sea salt or kosher salt)
4-6 tbsp sugar (brown or coconut sugar)
1 pinch cayenne pepper (added to coconut oil when making those)
1 spring rosemary (needles only)
to taste sweet chili sauce (or Sriracha)
abundendly chocolate (melted, poured over)
plenty mozarella cheese finely grated
Instruction
Prepare a bowl, or two, or three depending on how many flavours you fancy making.

Place the cooking pot over medium heat. Add the coconut oil and the corn kernels which should be sufficient and not more than covering the bottom of the pot you decide to pop the corn in.

As soon as you put the kernels in, place the lid on and make sure the heat is not on high but on medium temperature. The lid should be placed ajar.

The corn will begin to pop so make sure you pick up the pot by its handle(s) and, while holding on to the lid, slightly and gently shake it for a couple of times during a batch, placing it back on the heat straight after each shake. This will help the kernels (that are not popped) to pop and the ones that are popped not to burn, by moving them around rather than staying still for the whole cooking time.

Once you don't hear popping going on, vigilantly remove the lid and place the popcorn into your prepared bowl.
Your Recently Viewed Recipes
Join our community of 5 million cooks!
Get free recipes, exclusive partner offers, and more.
Thank You for Signing Up!
There was an issue signing you up. Please check your email address, and try again.