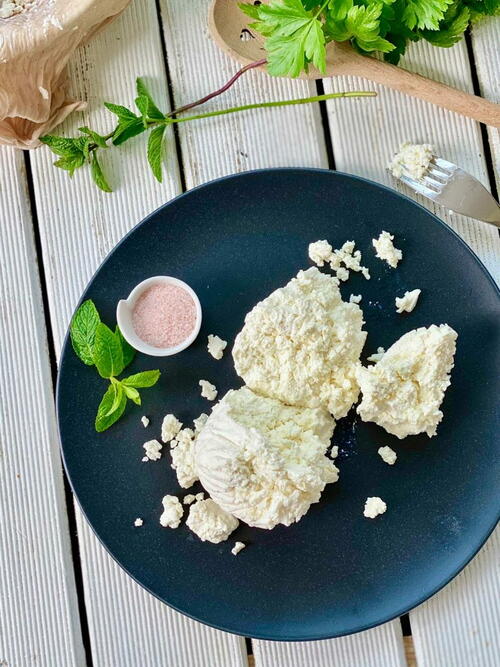 Homemade Farmers Cheese
"Start making your own cheese at the comfort of your home. Nothing compares with homemade cheese and this farmer's cheese recipe is easy to make delivers goodness. Just give it a try and you will definitely be in love with the outcome. You will love how versatile this cheese is and how many recipes this can be incorporated in, both sweet and savoury. I will list a few recipes below, just look for these to get some ideas. "
Notes- if you do not have a cheesecloth use a thin dampened super clean kitchen towel over the colander.
- Do not throw away the whey! Remember, we have a no-waste approach and whey is fantastic for bread making, can be added to soups, or it makes a fantastic protein booster and can be added to smoothies. You may store the whey in the fridge and use it later. Store in an airtight container or a jar with a lid.
- To give the cheese a disk kind of shape, keep it wrapped in the cheesecloth forming a mound on a plate, cover it with clingfilm and place another plate over it. You may place something a little heavy (a small (250g) bag of pasta, rice or a smaller jar) over the top plate to add a little weight. Refrigerate for one to two hours. Remove the cheesecloth.
- To give the farmers cheese more of a ball shape tie the cheesecloth with 5-7 inches of butcher's twine, attach it to a sink tap, a wooden spoon and suspend it over a bowl for a good 30 minutes.
Serves4
Cooking MethodSlow Cooker
Ingredients
2 l milk (8 cups) organic whole milk
1/2 tsp salt pink Himalayan or kosher
4 tbsp lemon juice or cider vinegar
In a larger enameled pot, bring the milk to a slight boil, stirring occasionally. Add the salt now or you can choose to add lated to the actual cheese when this is ready. Keep the heat on medium or even low to lower the risks of burning the milk on the bottom of the pot.

When the milk its at almost boiling point and has foamy bubbles forming on the surface of the milk turn off the heat. You may even use a thermometer to check the temperature and this should be should be somewhere close to 85°C or 190° F.

Add the lemon juice or the cider vinegar and stir gently using a wooden or a silicone spatula or a spoon. Avoid using anything metallic. You will notice that pretty much immediately the milk will start to curdle. Add a little more lemon or vinegar if it does not.

Allow the milk to rest for 15-20 minutes. Avoid stirring.

Add more salt, fresh herbs, dried ones, black pepper, whatever you fancy adding to your cheese, add it now.

Place a good size colander over a large bowl or a large pot. Using a slightly dampened cheesecloth to drape over the colander. Pour the curdled milk into the cheesecloth.
Your Recently Viewed Recipes