Dates, Grapes and Goats' Cheese Super Balls Snack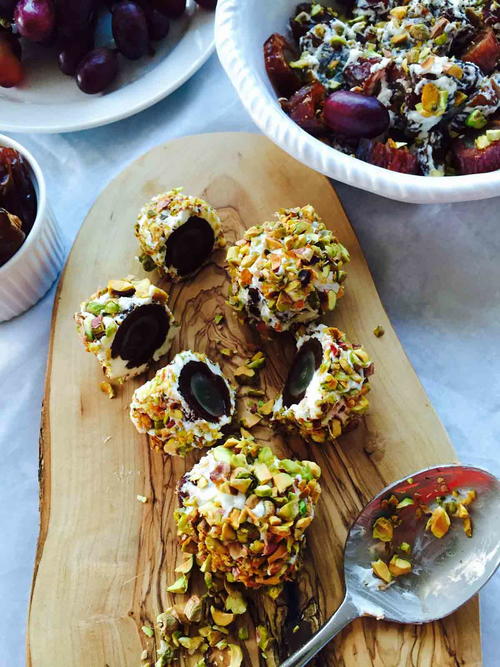 Dates Grapes and Goats Cheese Super Balls Snack
"Easy to assemble and you will have an outcome that is guaranteed to impress even yourself with, try with your guests as well. I can't tell you exactly where I found this recipe a good few years back but I have had it written in my recipe book and have made it a few tens of times. It definitely originates from my habit of ripping off a little page corner in a newspaper or magazine which I sometimes do whenever I find some interesting and good recipe. I never end up preparing anything as per original recipe but that's a different story altogether…..??"
Serves4 people
Ingredients
8 dates (pitted) (Medjoul variety is a must)
8 red grapes (seedless) nice and crisp
1 pinch pepper (freshly ground)
100 g goat cheese (aprox)
80 g pistachios (salted) chopped and toasted
I will start with most challenging part of this recipe and that is chopping the pistachio nuts and toasting them. Hard task hey?! ??. Once finished, put them on a plate and set aside.

Place the grapes onto a plate and freshly ground for some black pepper over . Pepper will stick if they have been freshly washed and they are slightly damp otherwise you can put the paper into the cheese it's absolutely fine, or, coat the grapes in oil. * As you can see I have grinded the pepper after placing the grapes inside the date.

Cut open the dates and then slightly squeeze the dates to both ends to kind of open the cut a little bit. *

Place each grape into the cut date. Be pretty gentle with carrying out this task. ??

Divide the goats cheese into eight equal pieces. Place each piece or chunk of cheese into your hands and flatten it with the heel of your other hand.
Your Recently Viewed Recipes