Make-it-Yours Homemade Taco Seasoning
Try our easy taco seasoning recipe, with variations for chicken, pork, and even fish!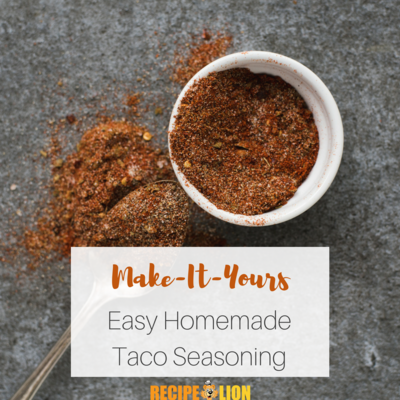 You may think that people who know how to make taco seasoning are kitchen superstars. Many are! But many are just smart home cooks who know how to save money and make a great custom seasoning at home.

We have an easy taco seasoning recipe below that anyone can make. Better yet, anyone can adapt it to their own tastes!

Maybe you prefer a little more spice, or maybe you want a nice mild taco seasoning. Either way, this recipe is a great way to get started.

We also have suggestions for adapting these ingredients for a homemade taco seasoning for pork, chicken, or fish. This basic recipe will work fine for all of those types of meat, but it's always fun to pick something a little different for different types of tacos.

Enjoy these easy taco seasoning tips, and be sure to share your thoughts (or any great seasoning tips of your own) in the comments below!
Table of Contents
Homemade Taco Seasoning Recipe
This is a great homemade taco seasoning for ground beef, and it also works well for other types of meat.

1 Tbsp chili powder
¼ tsp garlic powder
¼ tsp onion powder (or 1 tsp dried minced onion)
⅛ tsp cayenne pepper (optional)
¼ tsp dried oregano
½ tsp paprika
1 ½ tsp ground cumin
½ tsp ground black pepper
1 tsp salt
1 tsp cornstarch*

To Use:
Use about 2 ½ Tbsp of seasoning mix per pound of ground meat. This is equal to the amount of seasoning in a typical packet and is also how much homemade taco seasoning to use per pound of meat with any other taco recipe.

In a skillet, sprinkle the seasoning over the cooked and drained ground beef, pork, or chicken. Add ⅔ cup of water* and simmer for 5-10 minutes until the mixture is thickened.

*If you don't want your tacos to have the thick "sauce" created by most taco seasoning packets, omit the cornstarch and simply sprinkle the seasoning over your cooked taco meat.

To Store:
Store your taco seasoning mix in an airtight container in your pantry.
Homemade Taco Seasoning for Chicken, Pork, and More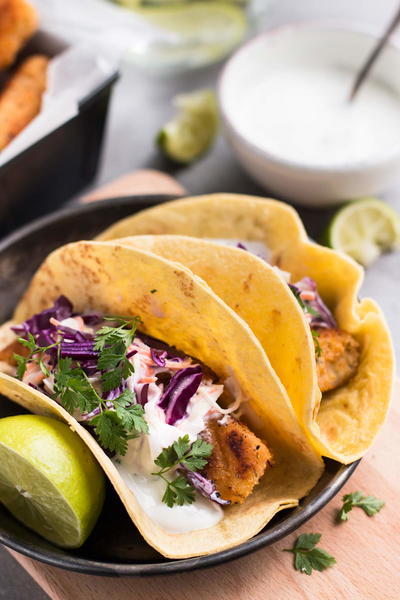 You may want to use other types of taco seasoning for other types of tacos. Try these easy substitutions to our easy recipe above:

For pork tacos, consider: Substituting regular paprika for sweet paprika. You could also add ¼ tsp of cinnamon or even cocoa powder for a slightly sweet, "what's that delicious flavor?" effect.

For ground chicken tacos, consider: Adding ¼ tsp of ground mustard. You can also substitute regular paprika for smoked paprika here.

For fish tacos, consider: Making a simple seasoning of ½ Tbsp chili powder and ½ Tbsp cumin. Marinate the fish with this seasoning, a few tablespoons of canola oil, and lime juice before cooking, if you have time!

We also love these Baja Fish Tacos from Savory Nothings. Check out her homemade taco seasoning for fish for more great seasoning ideas!
Why Make Homemade Taco Seasoning?
There are many reasons to make your own taco seasoning!

First of all, you can control the ingredients. If you're trying to cut down on sodium, you can omit all or most of the salt in your own recipe.

You can also control the amount of sugar (did you know that most commercial taco seasonings include sugar?), starch, and other ingredients like gluten. So, if you're following a special diet, making your own taco seasoning is ideal!

Making taco seasoning at home also saves money.

Even though a packet of taco seasoning usually only costs about $1, you can make it yourself for much less than that. If you eat tacos once per week, that can save you a lot of money over time.

Finally, it's fun and you can put your personalized twist on it!

The recipe for taco seasoning above is just a starting point. Do you love the smoky flavor of cumin? Add a little more to your own spice blend! Do you hate spicy food? Omit the cayenne pepper, and even consider reducing the amount of chili powder in this recipe.

You can also add other spices to the mix. Here are some ideas for fun add-ins that can make this recipe your own:
Smoked sea salt
Ground cloves (try with pork tacos!)
Thyme, sage, or marjoram (try with chicken tacos!)
Pink or white pepper
Our Favorite Taco Recipes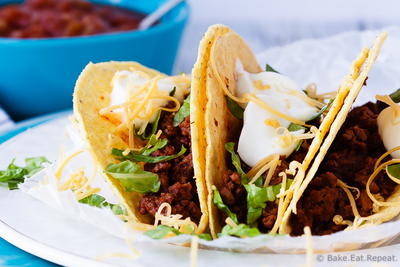 Try one of these delicious taco recipes (including taco casseroles... because they're delicious!) this week.

Now that you have your own stash of taco seasoning, you can make any of these recipes without having to wonder if you picked up a packet at the store!
With these 3 Easy Mexican Soup Recipes you'll be able to bring all that south-of-the-border flair home to your dinner table with ease. We have recipes for chicken chili, Mexican tortilla soup, and a recipe for taco soup that you can't pass up!
Why do you like making your own taco seasoning? Let us know in the comments below!
Your Recently Viewed Recipes
Join our community of 5 million cooks!
Get free recipes, exclusive partner offers, and more.
Thank You for Signing Up!
There was an issue signing you up. Please check your email address, and try again.