Creamy Coconut Pandan Salad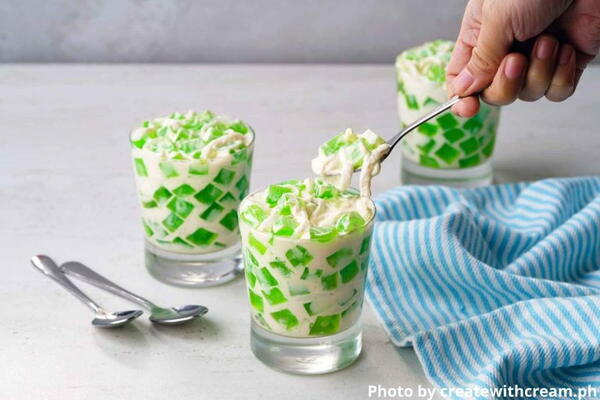 Creamy Coconut Pandan Salad
"Buko (coconut) salad is a classic Filipino dessert that is loved by everyone. It has many variations which are equally delicious. One of the best varieties of buko salad is buko pandan salad. The difference is that creamy buko pandan salad has an added classic Pinoy flavor, pandan into the mix. It is mixed in by making pandan-flavored jelly, and even putting in the pandan leaves into the salad mixture itself. After all, pandan gives that fragrant, aromatic smell that is so good, it never fails to boost one's appetite! "
Serves4
Ingredients
1 packet All Purpose Cream
1 can big condensed milk Adjust according the sweetness you like
1 cup Fresh Coconut shredded
1 cup cheese diced
1 cup small sago
1 cup nata de coco optional
1 packet green Jelly powder
1 cup white sugar
2 pcs Pandan leaves or 1 tsp Buko Pandan Extract
2 cups water
In a cooking pot, put 2 cups water and dissolve the jelly powder. Stir and let the powder dissolve completely.

Put over medium low fire. Stir constantly.

When it starts to boil, put pandan leaves and sugar. Continue to stir to avoid burning.

Let it boil for 4 minutes more. Ensure that the sugar is completely dissolved.

Remove the pandan leaves. Turn off the heat and transfer to molders. Let it cool.

Once cooled, slice the jelly into dice and set aside for later.
Your Recently Viewed Recipes