Homemade Italian Giardiniera Mix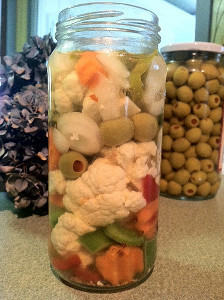 Homemade Italian Giardiniera Mix
Whether you make it for the yummy salad dressing it yields or the wonderful pickled vegetables it creates, this Homemade Italian Giardiniera Mix is certain to put a smile on the faces of all those you serve it to. You can be creative with what you add to this small batch of pickled vegetables - the only one required is cauliflower. Chili peppers add some subtle heat while the taste of all the other veggies meld together beautifully. Salty, tangy, and delicious, this is a simple recipe that will become a staple in your refrigerator.
Makes2 quarts
Ingredients
Fresh chili peppers of choice, or red pepper flakes, or jalapeno slices
2 cups water
2 cups vinegar
2 teaspoons salt
cauliflower, cut in florettes or smaller
carrots, cut in thin coins or use baby carrots
pearl onions or large onions, chopped
garlic cloves, whole, or a tsp. of minced
green olives, pitted
red and/or green pepper pieces, sliced
celery pieces, sliced
2 quart jars
Instructions
If using fresh chilies, poke several holes near the stem, or use pepper flakes. Combine water, vinegar, salt and pepper flakes and boil for one minute.

Fill jars with assortment of veggies and pour hot liquid over and screw on lid.

Cool and refrigerate for two weeks. Store in refrigerator.
Your Recently Viewed Recipes