Grandma Frances' Wisconsin German Potato Salad
Once you make this German potato salad recipe, you'll never go back to regular old potato salad again!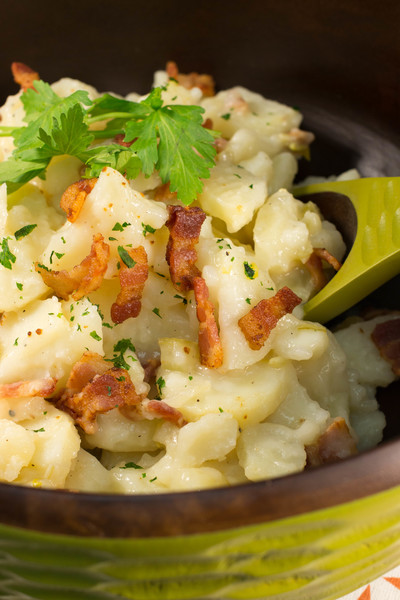 Grandma Frances' Wisconsin German Potato Salad
For a truly amazing potato salad recipe, Grandma Frances' Wisconsin German Potato Salad is a front runner. This easy potato salad can be served warm or you can make it up in advance and serve it chilled at a party or potluck. However you serve it, this easy German potato salad is a winning dish. Crispy bacon goes great with potatoes and brings a saltiness and smoky quality that other potato salads lack. Make this super easy side dish for your next potluck or holiday party, and get ready to receive lots of compliments!
Ingredients
3 pounds medium russet or red potatoes
5 strips bacon, chopped

1

/

2

cup coarsely chopped onion

1

/

2

cup coarsely chopped celery
2 tablespoons flour
3 tablespoons sugar
1

1

/

2

teaspoon salt

1

/

2

teaspoon fresh ground pepper

3

/

4

cup water

1

/

2

cup apple cider or white vinegar
Optional garnish
bacon pieces
celery leaves
Instructions
Peel and cut potatoes into 1/4 inch slices. In a large pot, cover the potatoes with water and bring to a boil over high heat, lower heat to medium and cook about 20 minutes or until just fork-tender. Drain.

While potatoes cook, place bacon into a large skillet and brown until crispy. Use a slotted spoon to remove bacon pieces and set aside. Pour out all but 2 tablespoons of the bacon fat. Over medium heat, cook onion and celery in the skillet for about 5 minutes or until they begin to turn translucent.

Combine flour, sugar, salt and pepper in a small bowl and mix well. Pour over the onion/celery mixture and stir for 1 minute to cook the flour, then add the water and vinegar and continue stirring over medium low heat for about 2 minutes. It will thicken and become syrupy.

Add the drained potatoes to the pan and toss gently to coat with the dressing, then add the bacon (reserving some for garnish) and toss again very gently to keep the potato slices intact.

Serve while warm or at room temperature, garnished with reserved bacon pieces and some celery leaves.
Your Recently Viewed Recipes