8 Easy Slow Cooker Pork Chops Recipes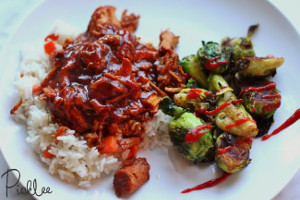 When dinnertime rolls around, and you're looking for a delicious, low-fuss meal that will please your family, try one of the easy dinner recipes in our collection, 8 Easy Slow Cooker Pork Chops Recipes. Cooking pork chops in the slow cooker is one of the most easy and efficient ways to achieve the perfect plate of pork. You'll have the most tender, juicy, and well-seasoned dish in just a few hours -- just in time for dinner. Make these easy pork chops recipes complete with a side of mashed potatoes and veggies, which you can also make in the slow cooker, if you so chose.
As a culture, we are always thinking ahead, checking off items from our to-do lists, and doing a million different things at once. The hussle and bustle of every day life is so very real. Sometimes, however, it's nice to be able to slow down and enjoy the moment, which is why you should bust out your slow cooker every now and again and bask in the joy that you get from cooking a delicious meal. While we've included eight recipes for slow cooker pork chops, we'd like to be clear: each of these recipes is different and unique from one another, and each brings a depth of flavor to your plate that will truly blow your taste buds away. Get ready to take back dinner with these mouth watering slow cooker pork chops recipes!
8 Easy Slow Cooker Pork Chops Recipes
---
If you like slow cooker recipes, then you'll love how easy the recipes in our collection, 25 of Our Best One Pot Recipes are to throw together!
---
Slow Cooker Creamy Ranch Pork Chops Dinner
Don't heat up the house with this all-day recipe for pork chops. Throw together the ingredients for Slow Cooker Creamy Ranch Pork Chop Dinner in the morning, and it's ready by dinner time. Pork chops and potatoes are smothered in a homemade creamy ranch sauce and cooked all day. When it's done, you'll have a complete meal ready to serve with very little effort. We love a good summer slow cooker recipe, and this one is at the top of our list.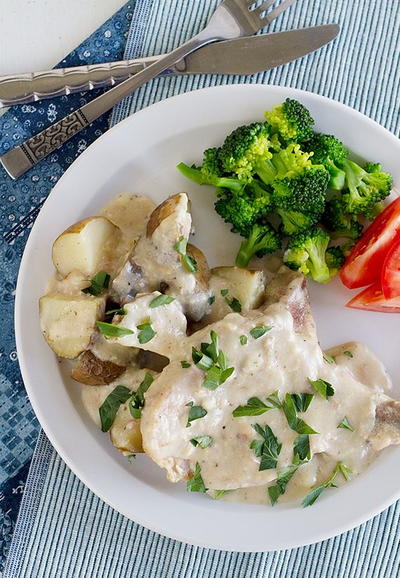 5-Ingredient Slow Cooker Pork Chops

Although this slow cooker dinner recipe is super simple, it's packed with flavor and amazing tenderness! This one-pot-wonder is as easy as dumping the ingredients in your slow cooker and letting them cook. They cook low and slow, so they'll come out super tender and not at all dry. Plus, cream of chicken soup and ranch dressing mix add amazing flavor with a creamy sauce.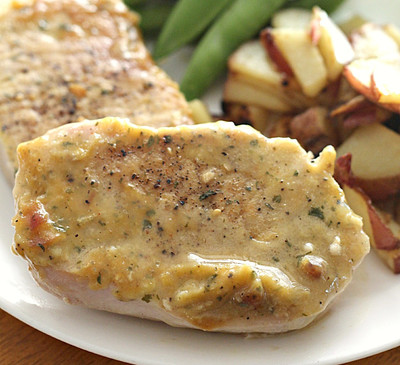 Smothered Pork Chops from the Slow Cooker
Slow Cooker Golden Mushroom Pork and Apples

Slow cooker pork recipes work wonders because pork holds moisture and tenderness so well. This traditional pork chop recipe has all the tasty trimmings you'd expect, and even some you might not! Apples, mushrooms and brown sugar bring a sweet and savory flavor to this completely irresistible dish. Only 10 minutes to prep, and you're on your way to a fantasic meal you won't be able to stop eating until the last bite is gone.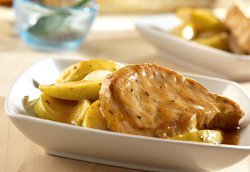 ---
Sometimes you just need to taste the comfort found in your favorite restaurant-style recipes. Do just that with the recipes found in our free eCookbook, 14 Restaurant-Style Country Recipes.
---
Your Recently Viewed Recipes