Struffoli (Honey Clusters)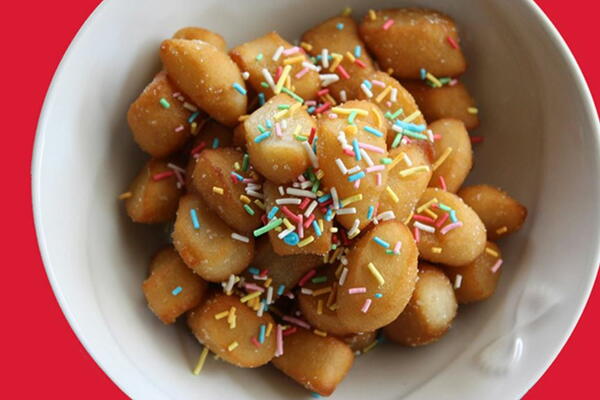 Struffoli Honey Clusters
Stuffoli or "Honey Clusters" are a traditional Italian treat served during the holidays. Struffoli are simple sticky goodness piled on a serving dish and decorated with seasonal sprinkles. Growing up in an Italian-American neighborhood in Upstate, New York, I saw homemade or store-bought Struffoli grace many holiday tables. It's nothing really fancy in terms of ingredients. Struffoli consists of simple little balls of dough, fried and glazed in honey. They are typically piled onto a decorative plate to resemble a Christmas tree and decorated with colorful sprinkles. Plates of Struffoli are wrapped in cellophane and fastened at the top with a bow and given as gifts.

Sticky and fun to pick on, Struffoli made their home alongside trays of cookies, cannoli, and chocolate "pusties." They are a bit of nostalgia that brings back memories of visiting with aunts, uncles, and cousins during the holiday season. This simple sweet is synonymous with reconnecting with family at Christmas.
Ingredients
2 cups sifted flour

1

/

4

teaspoon salt
3 eggs

1

/

2

teaspoon vanilla
1 cup honey
1 tablespoon sugar
Oil for frying
Nonpareils
Directions
Place 2 cups of sifted flour and 1/4 tsp. salt into a large bowl and make a well in the center of the flour.

Add, eggs one at a time, mixing after each addition.

Add 1/2 tsp. vanilla, mix to make a soft dough.

Turn dough onto a lightly floured surface and knead, then divide dough into halves.

Lightly roll each half 1/4 in. thick to form a rectangle and cut into strips 1/4 in. wide.

Roll the strips to pencil thickness, cut into 1/4-1/2 in. long pieces and roll pieces into balls.

Using a deep Swiss Diamond saucepan or automatic deep fryer, heat the oil to 350 degrees F.

Fry uncrowded 3-5 minutes in batches until lightly browned, turning while cooking.

Remove from oil with a slotted spoon and drain on paper towels.

Once done frying, place 1 cup of honey and 1 tbsp. of sugar in a Swiss Diamond nonstick skillet over low heat for about 5 minutes, stirring until sugar is dissolved.

Remove from heat and add the deep-fried dough balls to the honey-sugar mixture, stirring to coat.

Place struffoli on a large plate, arrange in a cone-shaped mound, and sprinkle with multi-colored candies.
Your Recently Viewed Recipes