Sheet Pan Gnocchi Alla Norma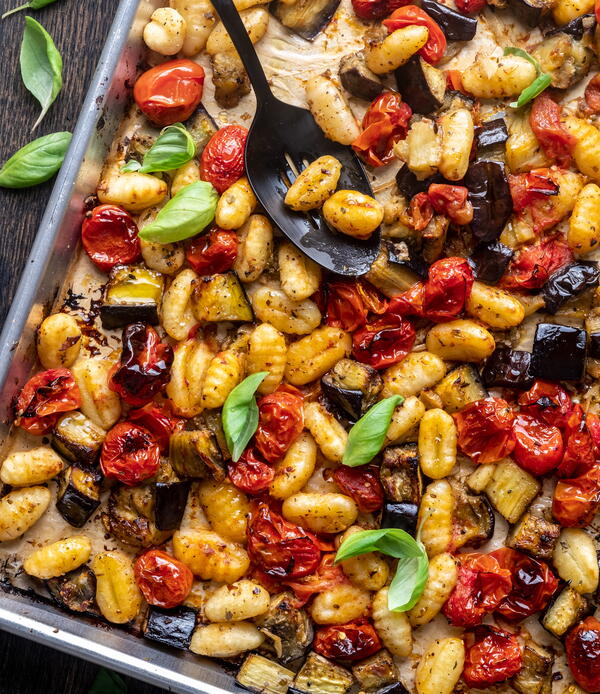 Sheet Pan Gnocchi Alla Norma
Hands down, this sheet pan gnocchi recipe wins the weeknight dinner game. Simply toss a package of store-bought gnocchi directly on a sheet pan with eggplant, tomatoes and seasonings inspired by the classic Italian dish pasta alla Norma. The tomatoes burst in the oven and their sweet juices caramelize around the gnocchi, leaving it perfectly crisp on the outside, but soft and chewy on the inside. Whether you're looking for a quick-fix after class or making dinner for your family, this is a great recipe to have in your back pocket.
 
Makes3 to 4 servings
Ingredients
1

/

4

cup (60 ml) olive oil
1

1

/

2

teaspoon (4 g) dried oregano
1 teaspoon light brown sugar

3

/

4

teaspoon kosher salt

1

/

2

teaspoon crushed red pepper flakes
1 eggplant, cut into ½" (1.3-cm) cubes
2 pints (596 g) cherry tomatoes
4 cloves garlic, minced
1 pound (455 g) shelf-stable prepared vegan gnocchi
Freshly ground black pepper
Fresh basil, for serving
DIRECTIONS
Preheat the oven to 425°F (220°C), set to convection mode, and line a large sheet pan with parchment paper.
 

In a small bowl, stir together the olive oil, oregano, brown sugar, salt and red pepper flakes.
 

Spread the eggplant, cherry tomatoes and garlic on the sheet pan. Pour the oil mixture over them and quickly toss to combine. Arrange everything, including the gnocchi, in a single layer on the prepared sheet pan—it's okay if it's pretty packed—and season with a few grinds of black pepper.
 

Bake for 15 minutes, then remove the sheet pan from the oven. Use a spatula to crush some of the cherry tomatoes and give everything a good toss so their juices coat the gnocchi and eggplant. Return the pan to the oven for another 10 to 15 minutes, or until the gnocchi are golden brown and crispy. Top with fresh basil and serve warm.
 
Your Recently Viewed Recipes