Retro Recipes from the '50s and '60s: 103 Vintage Appetizers, Dinners, and Drinks Everyone Will Love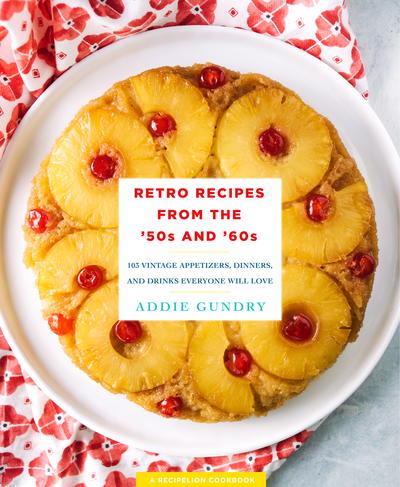 In Retro Recipes from the '50s and '60s, Cutthroat Kitchen star Addie Gundry serves up nostalgic recipes from the Mad Men era, like Beef Wellington and Grasshopper Pie, finally get the rediscovery they're due. Post-war rationing became a distant memory, and the rise of home entertainment culture made for prettier, more complex food. With French influence from Julia Child, and elegant aspirational figures like Jacqueline Kennedy, suburban dinner parties went glam. Backyard barbecues, fondues gathering everyone around a table, and not to mention cocktail parties were booming. From 1950's casseroles and hors d'oevres to more modern, adventurous dishes, there's plenty to celebrate and embrace! Available NOW!

"It takes a genuine senior citizen to recall popular foods from the 1950s and '60s. But baby boomers' offspring no doubt will have relished many of the recipes Gundry has collected...Most recipes are a breeze to concoct from pantry staples, but even Gundry's simplified beef Wellington has its place for celebratory dinners." —Mark Knoblauch, Booklist

"This collection of popular recipes from the 1950s and '60s contains what you might expect to find in a cookbook from the time or written on weathered index cards in grandma's recipe box...Gundry has made it easy for theme-party planners to find the necessary recipes all in one place." —Publishers Weekly

Order on Amazon

Order on Barnes & Noble

Order on Books-a-Million

Order on IndieBound

Order on Powells

Check out more of our upcoming cookbooks here.

Check out sample recipes from the book below!
Cinnamon Roll Casserole
Table of Contents
Your Recently Viewed Recipes