RecipeLion's 103 Cookbooks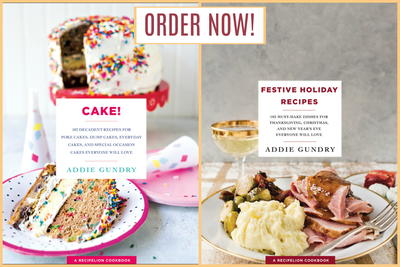 RecipeLion.com is pleased to present... the 103 cookbook collection!
 
The editors at RecipeLion have created brand new, exclusive recipes in our very own Test Kitchen, based on the recipes that YOU, our readers, love the most. With gorgeous, full-color photography and simple, step-by-step instructions, these cookbooks, led by our very own Addie Gundry from 2017's Food Network Star, are sure to become lifelong favorites in every kitchen. 
 
Inspired by the types of recipes our readers love the most and coupled with our signature easy, elegant style of cooking, these cookbooks showcase how you can make the most popular recipes around from your very own kitchen. From family-favorite casseroles to simple no-bake desserts to everyday dinner ideas and more, these simple dishes will become beloved favorites in no time. And Addie Gundry, who heads up our in-house kitchens and video studios, is a Food Network TV Favorite and shows you how to do it – every step of the way. To learn more about Addie, check out her favorite Test Kitchen Tips.

Easy Chicken Recipes, Homemade Soup Recipes, Retro Recipes from the '50s and '60s, Essential Slow Cooker Recipes, Family Favorite Casserole Recipes, No-Bake Desserts, Everyday Dinner Ideas, Easy Cookie Recipes, and The Lighten Up Cookbook are available NOW in bookstores near you! Pick up your copies today!

Cake! became available on October 2nd, 2018. Get your copy on Amazon, on BarnesandNoble.com, or at your local bookstore! Plus, Festive Holiday Recipes became available on October 16th, 2018. Get your copy on Amazon, on BarnesandNoble.com, or at your local bookstore!

Plus, join us every week on the RecipeLion Facebook page to watch Addie Gundry make recipes, share cooking and styling tips, and give away fun prizes!
Festive Holiday Recipes: 103 Must-Make Dishes for Thanksgiving, Christmas, and New Year's Eve Everyone Will Love
In Festive Holiday Recipes, Food Network star Addie Gundry offers easy, delightful holiday recipes all in one place for everyone looking for that last minute recipe for entertaining. There's a reason it's called the most wonderful time of the year. From easy appetizers for holiday and New Year's Eve entertaining, like Caramelized Onion Tartlets, to recipes for The Best Roast Turkey and all your favorite sides, pies, and even leftover ideas, this book is a home cook's trusty sous chef for easy and elegant entertaining throughout the holiday season. Three words to remember: Salted Caramel Eggnog. Each recipe is paired with a four-color, full-bleed photo. Available NOW!

Check out recipes from the book, including Candied Pecans, Christmas Leftovers Panini, Grandma's Southern Corn Pudding, Pumpkin Spice Roll, and Strawberry and Champagne Cake Balls.

Order on Amazon

Order on Barnes & Noble

Order on Books-a-Million

Order on IndieBound

Order on Powells

Check out more of our cookbooks here.
Cake! 103 Decadent Recipes for Poke Cakes, Dump Cakes, Everyday Cakes, and Special Occasion Cakes Everyone Will Love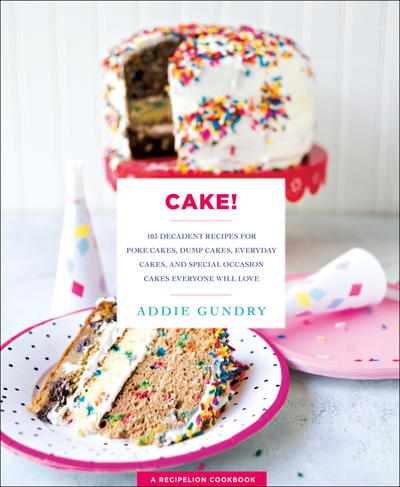 The Lighten Up Cookbook: 103 Easy, Slimmed-Down Favorites for Breakfast, Lunch, and Dinner Everyone Will Love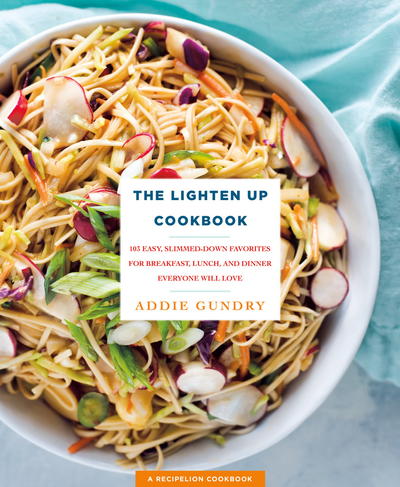 Classic American dishes get a lighter makeover in The Lighten Up Cookbook by Cutthroat Kitchen star Addie Gundry, from nutrient-rich smoothies to easy family dinners to guilt-free desserts. Eating lighter doesn't have to include charts or calorie counting. By incorporating easy healthy recipes into your diet, like substituting cauliflower for starchy breads or baking chicken instead of frying it, you can revitalize your eating habits without giving up the foods you love. From light breakfast recipes like the Kale Smoothie to potluck favorites like Mayo-Free Chicken Salad to family dinners like Zucchini Lasagna and even sweet treats like Pineapple Fluff, eating healthier can be simple and tasty! Each recipe is paired with a gorgeous full-color finished-dish photo. Available NOW!

Check out sample recipes from the book, Pineapple Fluff, Back-to-Basics Broccoli Salad, Skinny Corn Casserole, Southern Johnny Cakes, and Make-Ahead Breakfast Casserole here!

Order on Amazon

Order on Barnes & Noble

Order on Books-a-Million

Order on IndieBound

Order on Powells
Homemade Soup Recipes: 103 Easy Recipes for Soups, Stews, Chilis, and Chowders Everyone Will Love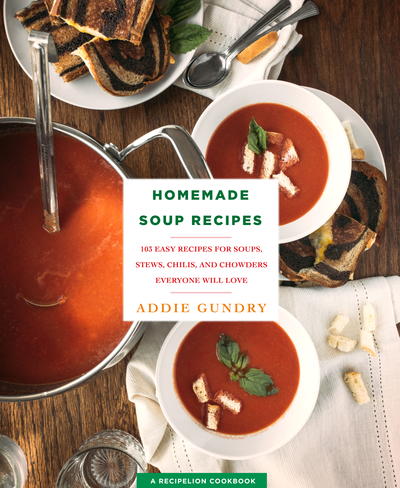 Cooking gets cozy with stovetop and slow cooker soups, stews, chilis, and chowders for the whole family to enjoy, in Cutthroat Kitchen star Addie Gundry's collection of Homemade Soup Recipes. In Addie's home, the delightful sound of a simmering pot on the stovetop signals that a hearty soup or stew is on its way. When it comes to creating a cozy atmosphere and showing off your cooking chops, there's nothing like an easy homemade soup recipe to bring family together. This cookbook has classics like Old-Fashioned Potato Soup and Beef Stew, as well as new culinary hits like Chicken Parmesan Soup and Pulled Pork Chili. Each recipe is paired with a gorgeous full-color, full-bleed finished dish photo. Available NOW!

Check out sample recipes from the book, German Kielbasa Soup, Chicken Pot Pie Soup, Steak and Potato Soup, Made-from-Scratch Minestrone Soup, and Pulled Pork Chili here!

Order on Amazon

Order on Barnes & Noble

Order on Books-a-Million

Order on IndieBound

Order on Powells
Easy Chicken Recipes: 103 Inventive Soups, Salads, Casseroles, and Dinners Everyone Will Love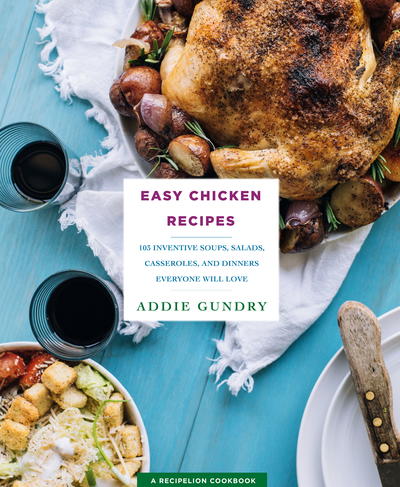 From a perfectly golden roaster chicken surrounded with herbed potatoes to soups, salads, and casseroles that make myriad uses of the resulting leftovers, Easy Chicken Recipes by Addie Gundry is perfectly poised to answer home cooks' twin boredom with and reliance upon the old standby: a chicken dinner. This book includes easy appetizers like spicy chicken potstickers, inventive casseroles like Frontier Chicken and Noodle Casserole, comforting soups, backyard favorites like Buffalo Chicken Sandwiches and more quick and easy weeknight dishes for the oven, the skillet, the slow cooker, and the grill. Each recipe is paired with a gorgeous, full-color, finished-dish photo. Available NOW!

Check out sample recipes from the book, Chicken Egg Rolls, White Chicken Chili, One-Pan Chicken and Potatoes, Beer Can Chicken, and Easy Baked Chicken Nuggets here!

Order on Amazon

Order on Barnes & Noble

Order on Books-a-Million

Order on IndieBound

Order on Powells
Retro Recipes from the '50s and '60s: 103 Vintage Appetizers, Dinners, and Drinks Everyone Will Love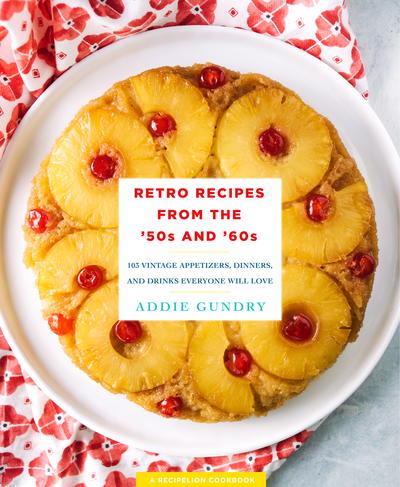 In Retro Recipes from the '50s and '60s, Cutthroat Kitchen star Addie Gundry serves up nostalgic recipes from the Mad Men era, like Beef Wellington and Grasshopper Pie, finally get the rediscovery they're due. Post-war rationing became a distant memory, and the rise of home entertainment culture made for prettier, more complex food. With French influence from Julia Child, and elegant aspirational figures like Jacqueline Kennedy, suburban dinner parties went glam. Backyard barbecues, fondues gathering everyone around a table, and not to mention cocktail parties were booming. From 1950's casseroles and hors d'oevres to more modern, adventurous dishes, there's plenty to celebrate and embrace! Available NOW!

"It takes a genuine senior citizen to recall popular foods from the 1950s and '60s. But baby boomers' offspring no doubt will have relished many of the recipes Gundry has collected...Most recipes are a breeze to concoct from pantry staples, but even Gundry's simplified beef Wellington has its place for celebratory dinners." —Mark Knoblauch, Booklist

"This collection of popular recipes from the 1950s and '60s contains what you might expect to find in a cookbook from the time or written on weathered index cards in grandma's recipe box...Gundry has made it easy for theme-party planners to find the necessary recipes all in one place." —Publishers Weekly

Check out sample recipes from the book, Super Easy Crab Puffs, Slow Cooker Green Bean Casserole, Party Cheese Ball, Creamsicle Jell-O Mold, and Homemade Candy Buttons here!

Order on Amazon

Order on Barnes & Noble

Order on Books-a-Million

Order on IndieBound

Order on Powells
Essential Slow Cooker Recipes: 103 Fuss-Free Slow Cooker Meals Everyone Will Love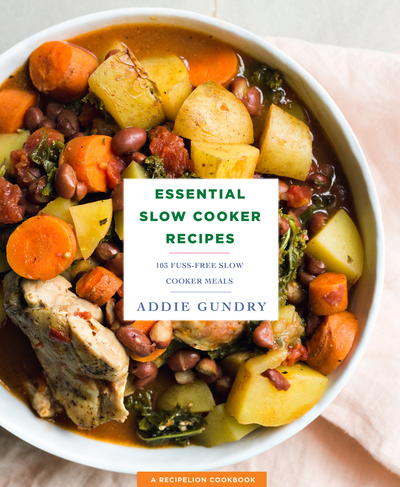 In Essential Slow Cooker Recipes, America's favorite appliance turns out classic one pot meals, from overnight breakfasts to hearty entrees to comforting desserts. A slow cooker is the ideal partner in crime when it comes to tackling dishes that can be too time- and work-intensive for every day, like French onion soup or chicken cordon bleu. And in this cookbook, we're going way beyond the expected soups and stews. Chef Addie Gundry presents recipes for appetizers like BBQ Meatballs, breads like Slow Cooker Dinner Rolls, make-ahead breakfasts like Banana Pecan French Toast, and desserts like Pineapple Upside Down Cake. Not to mention slow cooker twists on beloved recipes like Lasagna, Meatloaf, and Stuffed Peppers. Available NOW!

Check out sample recipes from the book, Caesar Chicken, Slow Cooker Mac 'n' Cheese, Slow Cooker Cinnamon Rolls, Pizza Pull-Apart Bread, and Mississippi Chicken here!

Order on Amazon

Order on Barnes & Noble

Order on Books-a-Million

Order on IndieBound

Order on Powells
Everyday Dinner Ideas: 103 Easy Recipes for Chicken, Pasta, and Other Dishes Everyone Will Love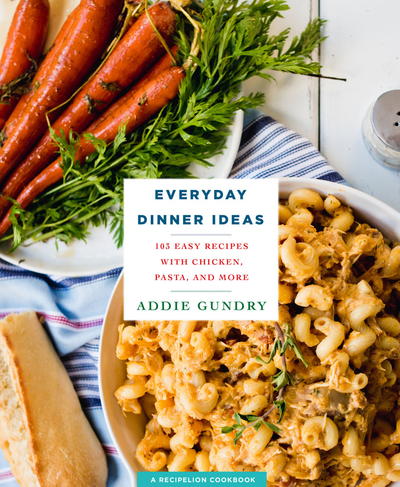 With plenty of one-pot meals, dinners ready in under half an hour, and innovative flavor combinations to spice up your go-to proteins, Everyday Dinner Ideas author Addie Gundry has the answers. This third book from the RecipeLion collection is poised to become a go-to resource for singles, couples, and families. Driven by the recipes homecooks search for most on the web like lasagna, salmon, pork chops, and ground beef, this book presents 103 great everyday dinner ideas that real people are searching for daily. Available NOW!

Check out sample recipes from the book, Pesto Tortellini, Bacon Cheeseburger Walking Tacos, Four-Ingredient OMG Chicken, Hash Brown Casserole, and Ranch Pork Chops, here!

Order on Amazon

Order on Barnes & Noble

Order on Books-a-Million

Order on IndieBound

Order on Powells
Easy Cookie Recipes: 103 Best Recipes for Chocolate Chip Cookies, Cake-Mix Creations, Bars, and Holiday Treats Everyone Will Love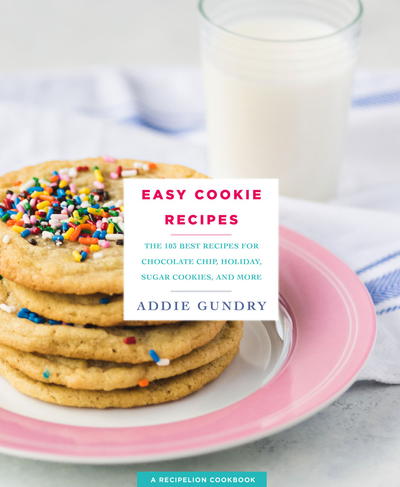 In Easy Cookie Recipes Addie Gundry adds elegance to no-frills baking with delicious results. From Apple Pie Bars to Red Velvet Thumbprints, No-Bake Coconut Graham Cracker Cookie Bars, and the best chocolate chip cookies ever, 103 Easy Cookie Recipes shows you how to use expert tips and shortcuts to make over a hundred types of cookies, plus plenty of customizations to make these recipes your own. Once you have your baking basics down, you can explore fun inventive types of cookies. This book is a collection of 103 playful recipes that add to, change up, and make old recipes new and exciting, while maintaining what makes cookies classic. Each recipe is paired with a gorgeous, full-color photo. Available NOW!

Check out sample recipes from the book, Bite-Size Cinnamon Roll Cookies, Toasted S'mores Cookies, Monster Cookies, Cream Cheese Strawberry Cookies, and Caramel Macchiato Cookies, here!

Order on Amazon

Order on Barnes & Noble

Order on Books-a-Million

Order on IndieBound

Order on Powells
Family Favorite Casserole Recipes: 103 Comforting Breakfast Casseroles, Dinner Ideas, and Desserts Everyone Will Love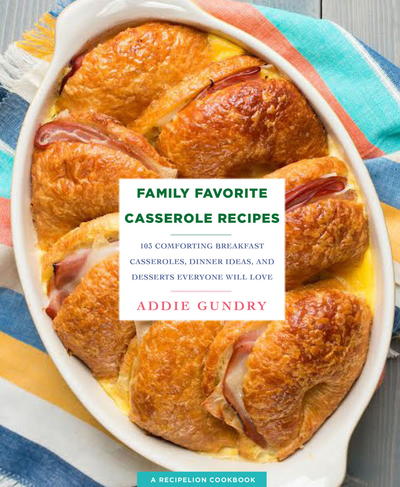 The 103 casserole dishes in this cookbook are simple and stress-free, but each is packed with flavor, making them your go-to family favorites to whip up any day of the week. In Family Favorite Casserole Recipes, Addie Gundry shows that a dish doesn't have to be complicated to be creative. You don't need multiple pots and pans to find flavor. And with the proper tools, tips and techniques, anyone can cook memorable meals. A casserole is something to be shared—something warm, rich, and worthy of a gathering on its own. Every recipe is paired with a beautiful finished dish photograph that will make readers jump at the idea of casserole night. Available NOW!

Check out sample recipes from the book, Cinnamon Roll Casserole, French Onion Soup Casserole, Skinny Cheeseburger Casserole, Strawberry Icebox Casserole, and Philly Cheesesteak Casserole, here!

Order on Amazon

Order on Barnes & Noble

Order on Books-a-Million

Order on IndieBound

Order on Powells
No-Bake Desserts: 103 Easy Recipes for No-Bake Cookies, Bars, and Treats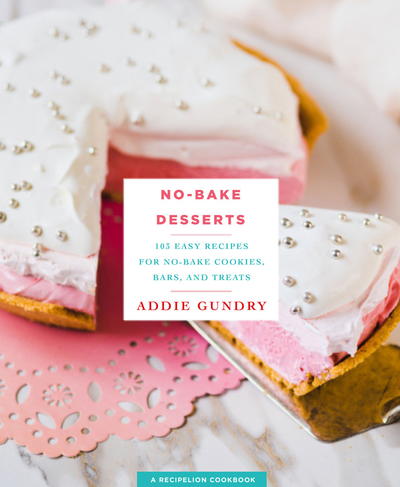 In this second RecipeLion cookbook, Cutthroat Kitchen winner Addie Gundry shows you how to combine your favorite flavors, from fruit and chocolate to nuts and caramel, into 103 easy no-bake cheesecakes, pies, fruit tarts, candies, cookies, bites, bars, fruit desserts, frozen desserts, gelatin desserts, puddings, and adorable single-serving desserts in a jar. And each dessert is no-bake, so there's no need to take up space in the oven. Combining her professional French culinary training with her love of easy entertaining solutions, Addie translates classic favorites from tiramisu to banana cream pie into easy go-to recipes that you'll use all year round. Available NOW!

Check out sample recipes from the book, Gummy Champagne Hearts, Chocolate Éclair Cake, Funfetti Cake Batter Bites, Strawberry Shortcake in a Jar, Snickerdoodle Balls, and Stuffed Strawberries here!

Order on Amazon

Order on Barnes & Noble

Order on Books-a-Million

Order on IndieBound

Order on Powells
Your Recently Viewed Recipes