Couscous alla Trapanese—Sicilian Fish and Semolina Stew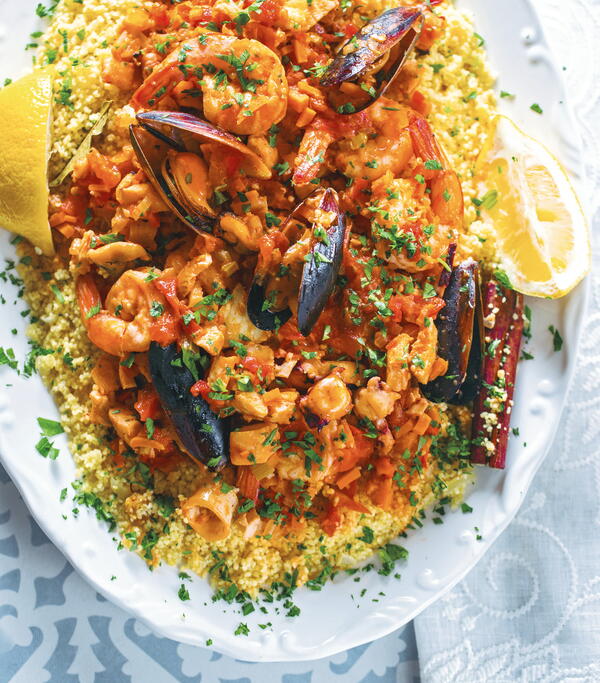 Couscous alla TrapaneseSicilian Fish and Semolina Stew
Vivid images of the breezy Sicilian seaside come to mind. The smell of the sea is a reminder of a shared ocean and not-so-distant cultures. Much of Sicilian cuisine has a prominent North African influence, mostly of Tunisian and Algerian origins. The name of this dish says it all—couscous alla Trapanese, or "Trapani-style cous-cous." Common Middle Eastern ingredients such as pine nuts, cinnamon, almonds, raisins, and saffron all became staples in Sicilian cuisine during the Middle Ages, a golden time for the expansion of the culinary world. This dish is intensely flavorful and full of life. My version differs slightly from the traditional one, as I add extra spices and aromatics.
 
Serves4
Ingredients
For the Broth
3 tablespoons (45 ml) extra-virgin olive oil

1

/

2

large onion
1 medium carrot, finely diced
2 ribs celery, finely chopped

1

/

2

large red pepper, finely chopped

5

/

8

teaspoon fine sea salt, divided
1 teaspoon pimentón dulce

1

/

2

teaspoon cumin
3 large cloves garlic, crushed
1 preserved lemon
4 tomatoes, peeled and chopped
2 tablespoons (32 g) tomato paste
1 cup (240 ml) homemade seafood stock, vegetable stock, or water
Freshly ground black pepper
1 lb (450 g) halibut fish fillet, cut into cubes
1 lb (450 g) shellfish such as shrimp, calamari, and mussels, cleaned

For the Couscous
2 tablespoons (30 ml) extra-virgin olive oil
1 tablespoon (14 g) salted butter

1

/

2

large onion, finely chopped
2 cinnamon sticks
2 tablespoons (40 g) golden raisins
2 bay leaves
Pinch of saffron (about 20 threads), soaked in hot water or milk
2

1

/

2

cups (600 ml) vegetable stock, homemade seafood stock, or water
1 teaspoon fine sea salt
2 cups (320 g) good-quality hand-rolled couscous

For Garnish
Slivered almonds and/or pine nuts, toasted
Fresh parsley
Aleppo chili flakes
Lemon wedges
Directions
Begin by preparing the tomato broth. Place a medium pot or deep pan over medium heat. Add the olive oil and stir in the onion, carrot, celery, and red pepper. Stir in ⅛ teaspoon of salt and sauté for about 10 minutes, or until the onion is soft and transparent. Add the pimentón dulce and cumin and cook for another 2 minutes. Stir in the garlic, preserved lemon, tomatoes, tomato paste, stock, ½ teaspoon of salt, and pepper.
 

Cover the pot, reduce the heat to low, and simmer the sauce for 25 minutes. Gently stir in the fish and cook for another 10 minutes. Add the shellfish and cook for another 8 minutes. If you are using mussels, discard any that have remained unopened.
 

Meanwhile, prepare the couscous. Place a large pot over medium heat. Add olive oil and butter and stir in the onion, cinnamon sticks, raisins, and bay leaves. Sauté for 10 to 12 minutes, stirring often. Add the saffron, stock, and salt. Bring the liquid to a boil and stir in the couscous. Remove the pot from the heat, cover with a tight-fitting lid, and let the couscous steam for 5 minutes, or until the seafood and tomato broth is ready. Fluff the couscous with a fork after it is ready. Remove the bay leaves and cinnamon sticks.
 

Transfer the couscous to a serving dish and spoon the fish and seafood over the top along with some of its broth to your taste. Serve the broth separately to wet the couscous as you like. Top the couscous with toasted almonds and/or pine nuts, parsley, and chili flakes. Serve with plenty of lemon. And most importantly, savor the moment.
 
Your Recently Viewed Recipes