Baked Almond-Crusted Cod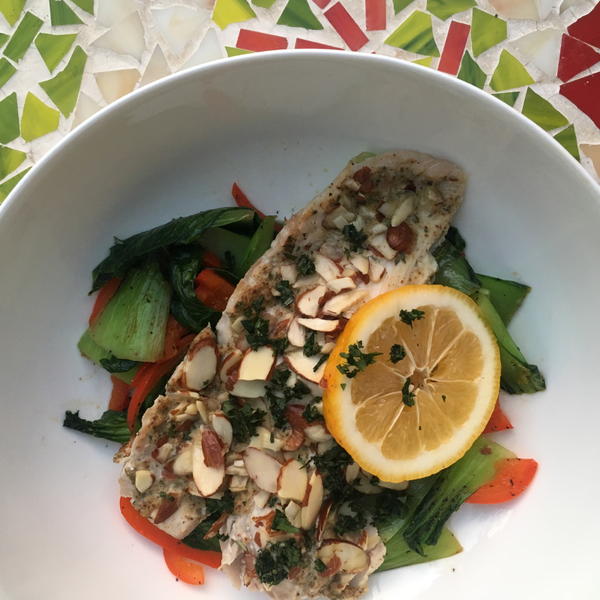 Baked Almond-Crusted Cod
When it comes to eating well on the SIBO diet, variety is the spice of life. However, with so many common flavors off limits on this LOW FODMAP plan (namely garlic and onions), variety can sometimes feel impossible. That's when creativity swoops in and saves the day. We assure you, it is possible to enjoy a meal without garlic and onions, as hard as it might be to imagine. You just have to get creative with what to use for flavoring to keep your food interesting and delicious. This recipe features a few key ingredients that bump up the flavor a notch, turning a simple white fish into something special. They include stone ground mustard, apple cider vinegar, fresh garden herbs, and slivered almonds. Mustard and apple cider vinegar offer acid, texture, moisture, and a little extra tang to the dish. The fresh herbs deepen the flavor and add richness, both during the cooking process, and as a raw garnish on the finished dish. Using herbs at multiple stages of the process allows for the various flavors of the plants to come through. The slivered almonds offer additional texture and a bit of a crunch without adding grains or flour to the dish before baking, while the mustard keeps them in place. We chose to use Rock Cod for this recipe, which comes in relatively thin filets (watch out for bones!). If you choose a different white fish, especially a thicker filet, make sure to check that it's cooked all the way through before turning off the oven. You might need to add an extra minute or two to the cook time, but be careful not to overdo it. Dry white fish is no fun, and you don't want to burn the delicious almond crust. As for our bed of veggies, we chose bell pepper and bok choy with SIBO dieters in mind. it can certainly be a challenge to incorporate adequate vegetables into every meal on the SIBO diet with all of the limitations. So many veggies are off limits or severely limited, especially in the first phase of the diet. But that doesn't mean that there's nothing to eat! Bell peppers and bok choy are allowable in unlimited quantities on the SIBO diet, so pile them on to your heart's content. Here, they're dressed simply with avocado oil, salt, and pepper.
Serves4 People
Ingredients
2 sprigs rosemary leaves minced
1 sprigs parsley leaves minced
2 sprigs oregano leaves minced
1 cup stone ground mustard
2 tablespoons apple cider vinegar
Kosher salt
Freshly ground black pepper
4 tablespoons avocado oil
2 pounds fresh Rock Cod filets or your favorite white fish
2 red bell peppers thinly sliced
In a small bowl, mix half the herbs, mustard, apple cider vinegar, and a pinch of salt and pepper until all ingredients are fully incorporated.

Grease a 9 x13 inch baking dish or pan with 1 tablespoon of the avocado oil and place the fish on top.

Spread an even layer of the mustard mixture over the top of each fillet. Evenly distribute slivered almonds on top of each fillet. Drizzle a thin layer of avocado oil and another pinch of salt over the almonds.

Transfer to the oven and bake until the fish is flakey and opaque, about 10 minutes. Then broil for 2 minutes to brown slightly. Quickly remove from the oven.

In a large frying pan over medium-high heat, warm 2 tablespoons of avocado oil. Add pepper and bok choy stems and cook, stirring, until softened, about 2 minutes. Add the bok choy leaves and cook until wilted, about 1 minute.
Your Recently Viewed Recipes
Join our community of 5 million cooks!
Get free recipes, exclusive partner offers, and more.
Thank You for Signing Up!
There was an issue signing you up. Please check your email address, and try again.