10 Recipes with Doritos
Bring your favorite chips into your weeknight dinners with these Doritos recipes!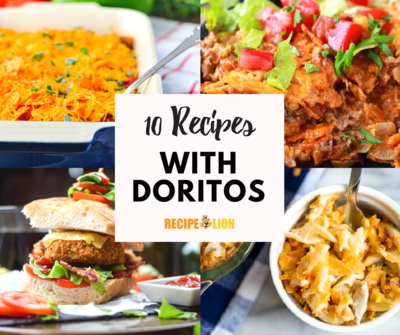 If you watch the Food Network TV show Chopped, you may have been inspired lately by the quirky ingredients those chefs are thrown into the mix. They make the most restaurant-worthy meals out of random ingredients! So, we encourage you to dig around in the back of your pantry--you, too, can turn an old bag of Doritos into recipes involving Doritos that the whole family will adore.

The best things about Doritos are their crunchiness and their cheesy powder coating. Recipes with Doritos pack all of that strong nacho cheese flavor into dishes that you won't be able to keep your fork out of! Whether you're going to try out an easy Dorito casserole recipe or perhaps Dorito bake recipes, we've collected our favorite 10 Recipes with Doritos for your enjoyment. Yum!
Table of Contents
Recipes Involving Doritos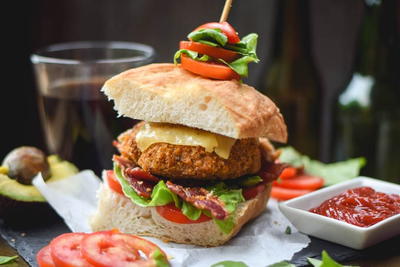 On Chopped, renowned chefs often use Doritos as a crumble to fry foods in or a crunchy crouton garnish, and who are we to argue? These recipes with Doritos make sure to take advantage of the best features of that classic, cheesy chip.

For example, take these Dorito Crusted Schnitzel Sandwiches. This ground pork burger tastes so fantastic when breaded with crushed-up Doritos in your favorite flavor. This cheesy crust keeps the meat firm and moist. These are perfect for appetizers at parties!
How do you make a ground beef casserole a tad more fun or a tad more kid-friendly? Create a bottom layer out of crushed Doritos! This easy casserole recipe is filled with taco meat, cream cheese, and Cheddar cheese, and the result is delicious.
Normal croutons will always seem boring once you've tried this bold Doritos topping. When making this Taco Tuesday recipe on a budget, you'll love how easy, cheap ingredients combine to make something memorable and quirky.
Dorito Bake Recipes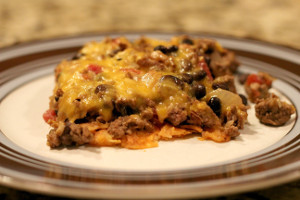 Don't you love recipes that let the oven do all the hard work for you? These simple Dorito bake recipes make fantastic dump-and-go meals that will taste like you put way more time into making them than you did.

For proof, this Addictive Dorito Loco Taco Bake got its name for a good reason. You'll want to make a double batch of this casserole, because it's so good you can't stop eating it!
Doritos Nacho Cheese Taco Bake
This simple twist on Mexican food will make your family smile! Lean ground taco meat and veggies are topped with shredded cheese and crumbled Doritos tortilla chips for a delicious, flavorful, and simple Doritos Nacho Cheese Taco Bake.
Easy Dorito Casserole Recipes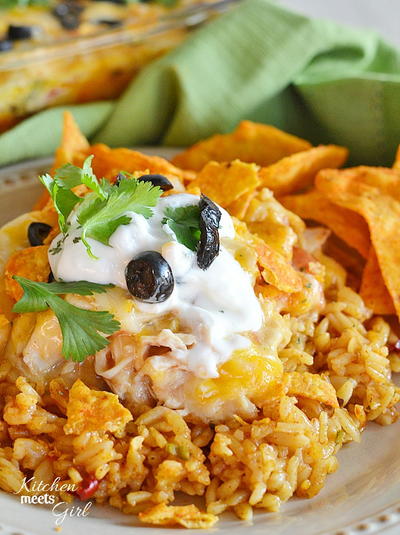 Casseroles have just got to be the granddaddy of dinner recipes! Simple, delicious, and (reasonably!) healthy, you just can't go wrong with these easy Dorito casserole recipes.

One of our favorites, no holds barred, is this Cheesy Chicken Doritos Casserole. Every bit of it is seasoned with savory taco seasoning. We guarantee this is going to be one of the creamiest casserole recipes you've ever eaten. With cream of chicken soup, plain yogurt, and milk, how could it not be? Your family will gobble up this Doritos casserole!
This Mexican casserole recipe includes delicious taco flavoring, creamy chicken, and crushed Doritos. Give this crazy casserole a try tonight! After all, it also happens to be super easy to throw together.
Doritos Cheesy Chicken Pasta Casserole
This Doritos Cheesy Chicken Pasta Casserole is DELICIOUS! This easy recipe only takes about 10 minutes of hands-on prep, plus 25 minutes to bake—a real benefit for busy households. Cheesy layers of meat, soup, and Doritos combine with noodles to produce a comfort food everyone will love.
What type of chips are you just unable to resist? Tell us about it in the comments!
Your Recently Viewed Recipes
Join our community of 5 million cooks!
Get free recipes, exclusive partner offers, and more.
Thank You for Signing Up!
There was an issue signing you up. Please check your email address, and try again.