26 Easy Christmas Drink Recipes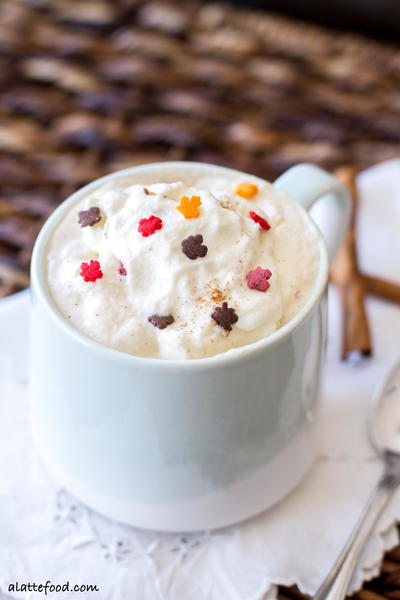 Make the holidays fun and festive this year when you whip up a batch of tasty, seasonal beverages to sip by the fire or out caroling with friends. This collection of 26 Easy Christmas Drink Recipes will have you feeling warm and cozy in no time.
Whether you're a fan of hot chocolate, apple cider, coffee drinks or holiday cocktails, this collection has just what you're craving. Make a batch of hot toddys for a holiday party, or a bowl of punch for the kids. Bring the essence of Christmas and all its cheer to your glass this year with these easy Christmas drink recipes. Our homemade eggnog is especially wonderful, as you can drink it as-is or give it a little extra 'oomph' with the addition of bourbon. Try these easy drink recipes out on your kids or make up a recipe for the holiday office party.
---
Need more items on your Christmas dinner menu? Get this free eCookbook of 11 Fabulous Christmas Dinner Menu Ideas.
---
26 Easy Christmas Drink Recipes
Table of Contents
Featured Recipe: Homemade Eggnog
Homemade Eggnog
Non-Alcoholic Christmas Drink Recipes
Christmas Cocktails Recipes
Featured Recipe: Homemade Eggnog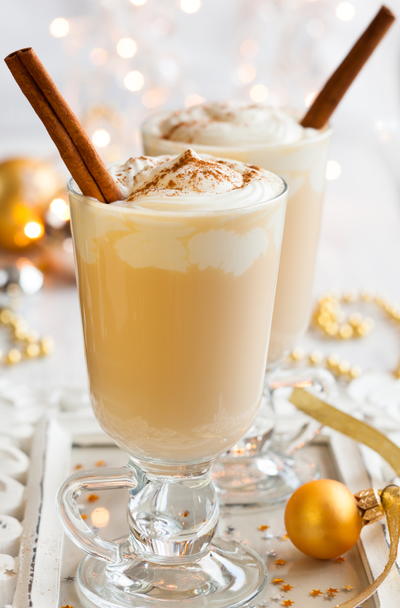 With this Homemade Holiday Eggnog Recipe you won't have to wait for the holidays to come around to enjoy this festive drink. This recipe is great for using in baking as well, if you're looking to add a unique flavor to a cake, pie or other confection. This thick, creamy, cinnamon drink traditionally include bourbon, however, if you're making this for your kids, you can exclude the alcohol. This is a great drink to make in large batches for holiday parties, but no matter the occasion, it's always nice to be able to make things at home that you'd normally have to buy at the store.
Serves: 12 ; Makes 6 cups
Ingredients
4 large eggs, separated
1/3 cup sugar + 1 tablespoon
2 cups milk
1 cup heavy cream
3 ounces bourbon
1 teaspoon fresh grated nutmeg
Instructions
Place egg whites into a mixer bowl and whip on high until they form soft peaks, adding one tablespoon sugar until they are stiff peaks. Set aside.
Place egg yolks into a mixer bowl and mix on medium high speed until they are thick and creamy. With the machine running, gradually add the remaining sugar and beat until it is dissolved, about 1 minute.
Add the milk, cream and optional bourbon, stirring until combined. Stir in the nutmeg.
Fold the two mixtures together and chill well before serving or using.
Health Advisory:
This recipe includes uncooked eggs, which are not recommended for people with compromised immune systems. Or use pasteurized eggs only.
Non-Alcoholic Christmas Drink Recipes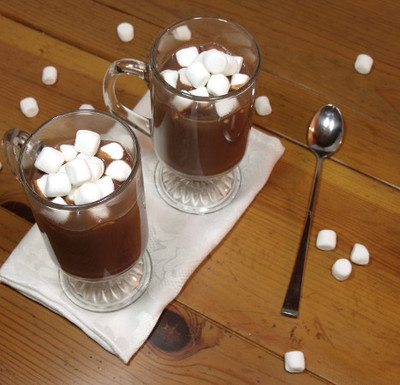 Cinnamon Coffee
This recipe is like Mexican hot chocolate, but substitutes coffee for hot chocolate. So delicious!
Salted Caramel Latte
Filled with warm flavors and is the perfect drink for when you need your coffee fix. It's easy to whip up and has a fraction of the calories that are found in coffee shop drinks

Starbucks Spiced Holiday Coffee Copycat Recipe
This recipe is just like a real Starbucks drink!
Indulgent Dark Hot Chocolate
If you like dark and rich chocolate, then this is the recipe for you.
Slow & Hot Spiced Cherry Cider
Cherries and apples! The more the merrier!
Maple Pumpkin Spice Latte
This cozy drink is naturally sweetened with maple syrup. It's gluten free, can be vegan, and is absolutely delicious! Its fall in a cup!

Caramel Apple Milkshakes
A caramel apple ... in a milkshake!
Cranberry Peach Cooler
This peachy drink can be made non-alcoholic for the kids, or substitute cranberry juice with rum.
Apple Pie Smoothie
You will love this drink because it tastes exactly like an apple pie.
Chocolate Malt Peppermint Cooler
Peppermint and chocolate are the perfect festive flavor combo.


---
Start your Christmas party right with a dish from this round-up of 24 Christmas Party Appetizer Recipes!
---
Christmas Cocktails Recipes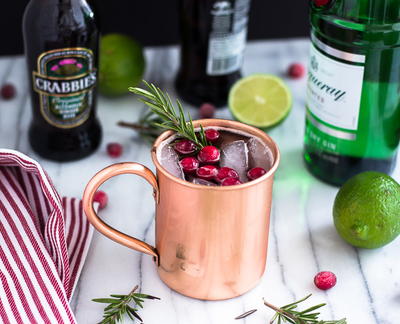 Holly Jolly Cranberry Moscow Mules
The sweet, tart taste of cranberry juice, ginger beer, gin, and the fragrant rosemary is one of the most delicious things Ill be sipping throughout the holiday season.

Butterscotch Cocoa
Make this alcoholic or you can leave out the liqueur if you want!

Hot Cranberry Toddy Recipe
Your search for inexpensive coworker Christmas gifts just ended.

1776 Rum Punch
Mix up a lot for your party because it'll be gone in minutes.
Christmas Spirit
This drink will bring out the true Christmas spirit in everyone!

Bonnie Prince Charles
Make this easy ice cream drink that's sure to please.

Almost Bailey's
This is called "Almost" Bailey's, but it tastes like the same thing!

Better Hot Buttered Rum
Add this to cider for a spiced (and spiked) drink!
Apple Brandy Rickey
The flavors are refreshing, and the brandy will warm you up at the end of a cold day.
Christmas Punch
A fruity treat that's a must-have at any Christmas party.
Blame It on the Night
Blame what? This drink is delicious!

Chocolate Mint Oreo Drink
Oreos and candy blend perfectly with the liqueurs to form a wonderful drink.

Burnt Island Mocha Hummer
You'll be day dreaming about white sandy beaches in no time.

Amaretto Liqueur
Try your hand at making your own liqueur!
Christmas Pudding Vodka
Start making this drink two weeks in advance, and you'll have a delicious, spicy result for your Christmas party.
Cranberry Kamikaze
We saved the best for last - prepare yourself for this Christmas Kamikaze!
Your Recently Viewed Recipes
Join our community of 5 million cooks!
Get free recipes, exclusive partner offers, and more.
Thank You for Signing Up!
There was an issue signing you up. Please check your email address, and try again.