3 Ingredient Vegan Peanut Butter Cookies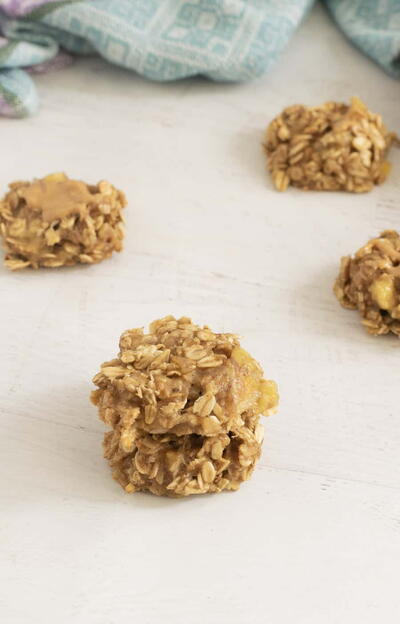 3 Ingredient Vegan Peanut Butter Cookies
"3 Ingredient vegan peanut butter cookies are ready in under 20 minutes. Great as a snack or healthy, quick dessert, you probably have these 3 ingredients in your pantry already! When I have a sweet tooth craving, I want something quick. Usually, it's ice cream, or I'll often do a yogurt parfait with honey and granola. These banana peanut butter cookies are perfect when you want a quick and healthy dessert or snack, and that's that. The three ingredients you'll need for these are: 1. Peanut Butter – I recommend a drippy one, like my all-time favorite brand 2. Bananas – The riper the better for a sweeter product and more ease with mashing 3. Oats – Any type of oats will do! I would recommend quick-cooking oats for the best result. I also like to add some sea salt on top, as it makes a big difference in exaggerating the already delicious flavor. These cookies are also very nutritious, considering we're using three wholesome ingredients. - Each of these healthy no bake oatmeal cookies offers up 2 grams of fiber and nearly 3 grams of protein. - Peanut butter offers healthy unsaturated fats - Oats provide additional iron, beta glucan fiber, prebiotic fiber, B Vitamins and complex carbohydrates. - Bananas offer potassium, B Vitamins, Vitamin C and antioxidants. Because of this, they're a great snack to pair with a fruit, or another protein rich snack (like jerky, hard boiled eggs, yogurt) for sustained energy."
Makes12 Cookies
Ingredients
2 medium bananas
1

1

/

2

cup oats
1 cup peanut butter
Mash bananas and mix in bowl with oatmeal. Add peanut butter and mix together until smooth.

Line baking pan with parchment paper and divide mixture into 12 scoops. I love using a cookie scooper.

Bake for 11-14 minutes, checking until done. Mine were done around 12 minutes. Cookies should be lightly browned.

Top with sea salt, if desired.
Your Recently Viewed Recipes