Tomato Soup Spice Cupcakes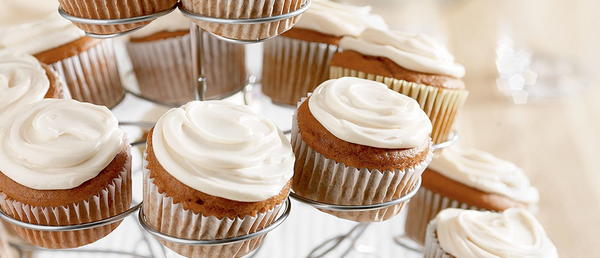 Tomato Soup Spice Cupcakes
Have you ever seen sweet, moist cupcakes with savory soup in them before? Don't be startled, because this dessert recipe for Tomato Soup Spice Cupcakes from Campbell's is going to be your new best friend. These scrumptious spice cupcakes are a dead ringer for carrot cake cupcakes, thanks to the secret ingredient--a can of Campbell's tomato soup. This easy recipe is a great shortcut for carrot cake, since it requires no shredding carrots for hours. Give this creative Tomato Soup Spice Cupcakes recipe a try.
Serves24 people
Ingredients
1 box (about 18 ounces) spice cake mix
1 can (10 3/4 ounces) Campbell's® Condensed Tomato Soup or Campbell's® Healthy Request® Condensed Healthy Request® Tomato Soup
1 cup water
2 eggs
16 ounces Store-bought or homemade cream cheese frosting
Instructions
Flavor Variation: After frosting, you can sprinkle the cupcakes with toasted chopped pecans or walnuts.
Heat the oven to 350°F. Place liners into 24 (2 1/2-inch) muffin-pan cups.

Combine the cake mix, soup, water and eggs in a large bowl and mix according to the package directions. Spoon the batter into the muffin-pan cups.

Bake for 20 minutes or until a toothpick inserted in the center of a cupcake comes out clean.

Let the cupcakes cool in the pans on wire racks for 10 minutes. Remove the cupcakes from the pans and let cool completely.

Frost with the cream cheese frosting.
Your Recently Viewed Recipes