28 Simple Slow Cooker Suppers Free eCookbook
28 Simple Slow Cooker Suppers Free eCookbook
Slow Cook Your Way to a Delicious Dinner


With this handy collection of slow cooker recipes, your slow cooker might become your new best friend. Great when you have a lot of errands to run and don't have time to be thinking about dinner, these slow cooker suppers provide you with everything you need to feed the family without losing any time. Some of these effortless recipes will become your new go-tos during the week. The best part is that the only thing you have to do is put the ingredients in the slow cooker and let your round friend work its magic from there.

There's something extra rewarding about enjoying a meal that was made in the slow cooker. It could be how all of the spices and flavor of every ingredient comes together to make each bite absolutely delicious, or it could just be that everything was made in one dish for an easy cleanup. No matter why you enjoy slow cooker recipes, there is one thing that we can agree on: they are all super delicious.

Making some of the best soups and stews we've ever tasted and some of the tenderest pieces of meat, your slow cooker has the ability to bring your dinner to the next level of awesome. After you try one of these delicious slow cooker recipes, you'll never want to make dinner in anything other than your slow cooker. So, take out your ingredients. Toss them in the slow cooker and go run some errands while your slow cooker does all of the work for you. Then only other thing you have to do is enjoy every last bite.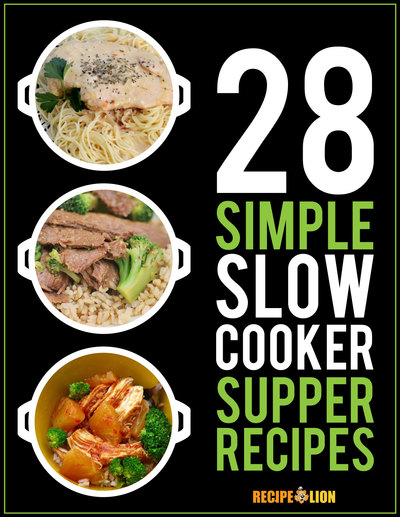 Download your copy of 28 Simple Slow Cooker Suppers eCookbook today!


28 Simple Slow Cooker Suppers
Table of Contents:
Dear Cooking Enthusiast,

It's the perfect time to sit back, relax and let your slow cooker do all the cooking for you. You can prep your meal the night before, set your slow cooker in the morning and have dinner ready by the time everyone is home from work and school.

We have gathered our favorite slow cooker recipes, including chicken recipes, beef recipes, pork recipes, and soups and stews. We have everything from slow cooker BBQ meatballs and barbecued spareribs to pot roast with noodles and roast chicken with rosemary and garlic.

All of the recipes in this tasty collection involve almost no preparation time. Just set up your ingredients in the slow cooker and enjoy a hot, delicious meal at the end of the day. Your family and friends will think you slaved away all day in the kitchen to make the wonderful meals that these easy slow cooker recipes help create.
Enjoy these awesome recipes!

Sincerely,
The Editors of RecipeLion
Slow Cooker Chicken Recipes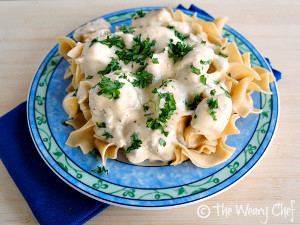 Dump and Go Chicken Stroganoff (shown, p. 9) - With Italian salad dressing, cream cheese, cream of chicken soup and sour cream in the mix, it's easy to see how this rich and delicious chicken supper is a family favorite.
Slow Cooker Chicken Noodle Casserole (p. 12) - Warm and hearty, this chicken casserole recipe tastes just like the kind Mom used to make, but doesn't take nearly as much work! Just five simple ingredients and 4 hours in the slow cooker is all it takes to make this yummy meal.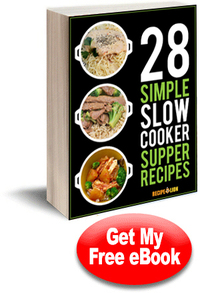 Click here to download 28 Simple Slow Cooker Suppers eCookbook free eCookbook!
Slow Cooker Beef Recipes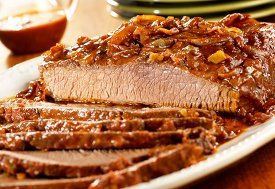 Slow Cooked Carolina Beef Brisket (shown, p. 22) - Good things are worth the wait! This flavor-packed Slow Cooked Carolina Beef Brisket cooks all day so you can come home to a fork-tender delicious dinner.
Barbecue Beef Short Ribs with Vegetables (p. 21) - This recipe couldn't be simpler. The ingredient list may be a bit daunting, but when you see the instructions, you'll definitely want to try this one. This is perfect for special occasions.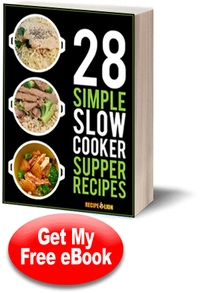 Click here to download 28 Simple Slow Cooker Suppers eCookbook free eCookbook!
Slow Cooker Pork Recipes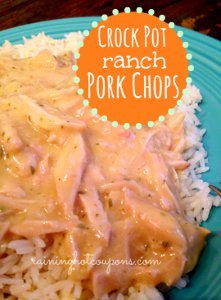 Crazy Slow Cooker Pork Chops (p. 30) - The only crazy thing about these pork chops is that they aren't prepared in the oven! Make salty, fragrant pork chops using this slow cooker pork chops recipe.
3-Ingredient Ranch Pork Chops (shown, p. 32) - If you love pork chops and Ranch, you'll go crazy for this yummy dinner recipe that combines the two in a simple yet incredible way!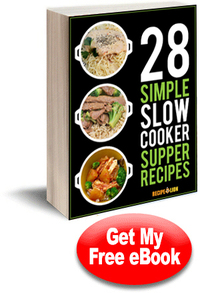 Click here to download 28 Simple Slow Cooker Suppers eCookbook free eCookbook!
You can easily download and print out each eCookbook for easy reference while cooking.
For help downloading our eCookbooks, see our help document here.

If you enjoyed this free eBook, you won't want to miss any of our other downloadable recipe collections. You can browse our entire library of free eCookbooks here.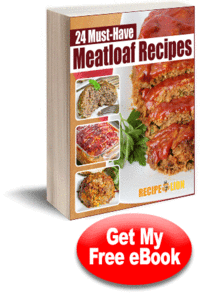 With your free copy of 28 Simple Slow Cooker Suppers (as with all of our free eCookbooks), you can subscribe to our free Quick and Easy Recipes newsletter to get free recipes delivered to your email inbox every week. Become a part of the RecipeLion community! By subscribing you will receive:
Six weekly emails with free recipes, tips, collection pages, videos and more + a weekly wrap-up.
Chances to win cookbooks and food products from our weekly giveaways and contests.
New recipes and eCookbooks made available to you throughout the year.
Access to our recipe large collection full of over 40,000 recipes, including budget friendly and quick and easy recipes
The opportunity to share ideas and help others in the recipe and cooking community.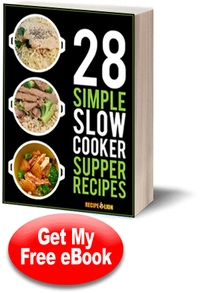 Click here to download 28 Simple Slow Cooker Suppers eCookbook free eCookbook!
Your Recently Viewed Recipes