Toasted S'mores Cookies
One bite of this fireside treat, and you'll be coming back for seconds!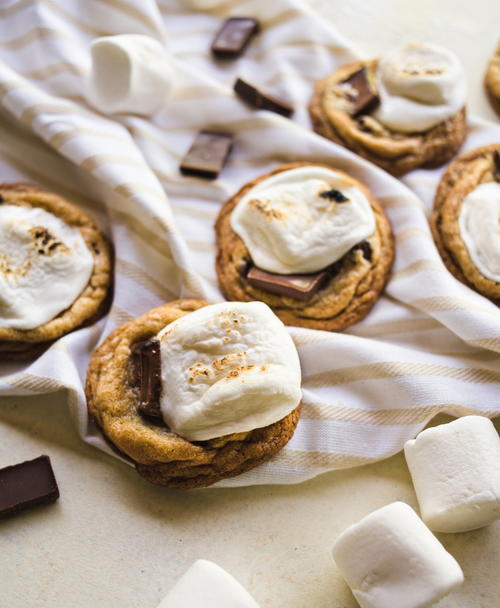 Toasted Smores Cookies
Get your s'mores fix without even leaving your kitchen with this recipe for Toasted S'mores Cookies! These cookies are a great way to pretend like you're in the great outdoors, sitting around the campfire, even when you're just at home. That classic flavor combination of marshmallow and chocolate takes a cookie form in this recipe. Give them a try, and you'll fall in love -- we know it.

From the Chef: I like to pull out this recipe when it's too cool outside to start a campfire, but I'm still craving that winning marshmallow-and-chocolate combination.
- Addie Gundry

This recipe is from RecipeLion's 103 Cookbook series, Easy Cookie Recipes:103 Best Recipes for Chocolate Chip Cookies, Cake Mix Creations, Bars, and Holiday Treats Everyone Will Love.
Ingredients
2

1

/

4

cups all-purpose flour
1 teaspoon baking soda
1

1

/

2

teaspoon cornstarch

1

/

2

teaspoon kosher salt

3

/

4

cup (1 1/2 sticks) unsalted butter, melted

3

/

4

cup packed light brown sugar

1

/

2

cup granulated sugar
1 large egg
1 egg yolk
2 teaspoons vanilla extract
1 cup semisweet chocolate chips
16 large marshmallows
16 miniature milk chocolate bars
Instructions:
For the cookies: In a large bowl, combine the flour, baking soda, cornstarch, and salt.

In a medium bowl, whisk together the melted butter, brown sugar, and granulated sugar until well combined and smooth.

Mix the egg and egg yolk into the butter mixture, then add the vanilla.

Combine the wet and dry ingredients and mix well. Fold in the semisweet chocolate chips.

Cover the dough and chill for 2 hours or up to overnight.

Remove the dough from the refrigerator and let it soften at room temperature for about 15 minutes.

Preheat the oven to 325°F. Line two baking sheets with parchment paper.

Using a cookie scoop or your hands, shape the dough into 3-inch balls and place on the prepared baking sheets 2 to 3 inches apart.

For the s'more toppings: Remove the cookies from the oven. Gently press a marshmallow in the center of each, then place a chocolate bar on top.

Return to the oven for 2 minutes to melt the toppings.

Turn on the broiler to toast the topping, or use a kitchen torch.

Cool for 10 minutes on the baking sheets, then trnasfer to a wire rack to cool completely. Serve.
Your Recently Viewed Recipes