Our Famous Christmas Crack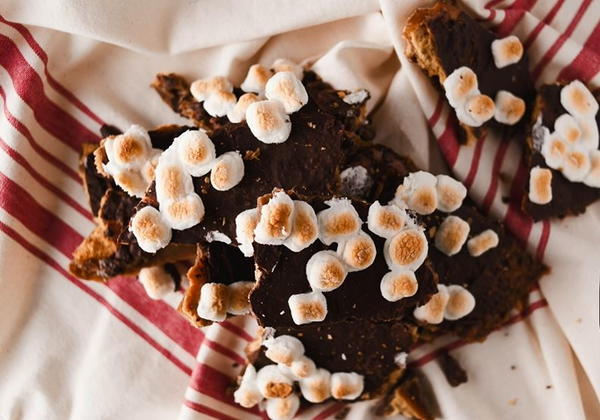 Our Famous Christmas Crack
There's really nothing better during the holidays that gorging ourselves with sweets, is there? Our Famous Christmas Crack is one of the easiest homemade candy recipes you'll make this holiday season, not to mention one of the yummiest! The version we made in our test kitchen is kind of like a s'mores recipe, made with mini marshmallows and chocolate, but we've replaced graham crackers for Ritz crackers making it a sweet and salty combo that is oh so addicting. If you want to get creative, mix up your toppings and personalize them with each batch. Other delicious ideas include crushed peppermint candy, mini pretzels and mini M&Ms, or any Christmas-theme sprinkles of your choice.
Ingredients
1 cup dark brown sugar
1 cup (2-sticks) butter
2 sleeves Ritz crackers
12 ounces dark chocolate chips
1 mini marshmallows
Instructions
In a saucepan, combine the brown sugar in the butter and bring them to a boil. Boil for three minutes.

Meanwhile, preheat the oven to 350 degrees F. Cover a jelly roll pan with aluminum foil. Cover the foil with an even layer of Ritz crackers.

Pour the buttery/sugary mix over the crackers, making sure they are all saturated. Put pan in the oven for 7 minutes.

Take pan out and sprinkle chocolate chips over the crackers. Return pan to the oven until chips soften, about 2 minutes. Spread the chips with a spatula or the back of a spoon. Top with mini marshmallows and broil until marshmallows are lightly brown.

Place pan in the fridge until everything is set.

Crack into pieces and serve.
Your Recently Viewed Recipes