Engagement Chicken
Whether you're excited about your own engagement, a friend's engagement, or perhaps even the royal engagement, this chicken dinner is here to mark the occasion!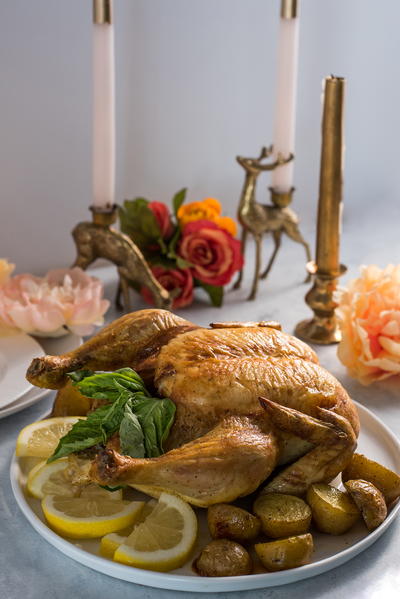 Engagement Chicken
Have you heard of Engagement Chicken? If not, you might be surprised by its history. Celebrate your own engagement or a friend's with this tasty recipe! 

If there's one thing we know pairs well with celebration, it's food. This hearty chicken dinner is sure to leave you feeling full and satisfied and is an easy enough recipe that you and your spouse-to-be can revisit making it when your first anniversary comes around. What a way to extend the memory of such a special occasion.

We can't guarantee that this dish will be the reason your significant other says "yes," but we can bet this dish will come in handy for celebrating once the question has been popped. 
Serves4
Ingredients
1 (4 pound) whole chicken
3 sprigs fresh basil, divided
1

1

/

2

tablespoon olive oil
1 teaspoon salt

1

/

2

teaspoon fresh ground pepper
More fresh basil for garnish
Instructions
Preheat oven to 400 degrees F. Place a rack in a baking pan and spray pan and rack with cooking spray.

Set aside one large sprig basil. Remove leaves from 2 sprigs and stack them, then roll tightly into a "cigar" and slice thinly into shreds. Squeeze juice from one lemon (about ¼ cup) into a small bowl. Cut remaining lemons into quarters or wedges.

Add olive oil, salt and pepper to lemon juice in the bowl and, using your hands, massage the mixture into all surfaces of the chicken. Pour any remaining oil into the chicken cavity.
 

Using the back of a knife blade, crush the remaining basil sprig to release oils and place this into the chicken cavity along with as many lemon wedges as will fit. Lay chicken on a rack in the prepared bake pan. Pour ½ cup water into the pan to keep drippings from burning.
 

Bake chicken for 1 ½ hours. Check internal temperature with an instant-read thermometer – it should be 170 degrees F. Remove chicken to your countertop and let rest 10 minutes – it should rise internally to 180 – 182 degrees F. Cut and serve the chicken; garnish with more fresh basil and the roasted lemon wedges.
The Myth Behind the Recipe
Engagement Chicken is a famous dish known for bringing in the ring. With just lemon, salt, pepper and chicken, you can get your man to say "I Do." But how and why exactly does it work? We are here to share with you the recipe along with the history of Engagement Chicken and who is most likely to see some serious results.

History of Engagement Chicken
This famous chicken recipe has been around for years. It was first published in Glamour magazine in 2002 as a way to reel in your man, and shockingly it actually worked! After the article was published, 21 women and counting wrote in to the magazine claiming they got engaged after cooking the chicken.

Since then, the recipe and article has been republished and women are not keeping quiet about this secret. It seems like a myth, but this recipe has worked for so many women. We're not just talking an engagement 8 months later. Some women were proposed to the next day! One man who was fooled by the chicken said the dish just reminded him of a wifely meal, and that is how the idea got into his head. Everyone at RecipeLion is very interested in how real this myth is-- but we're all too scared, or already married, to try it!

So what do you think, is it fact or fiction?

Get Ready For a Ring If...
This recipe can't work for everyone, so here are a few factors that will give you a leg up on other women trying to reel in that ring:
You actually have a boyfriend or girlfriend and have been dating him/her for a substantial amount of time.
You aren't seriously into cooking. After the recipe was released, men and women were more impressed by significant others who didn't usually cook and decided to try the recipe than partners who were seasoned cooks. It sounds strange, but maybe if you already cook then your honey can't get that jolt of domestic bliss.
You give them an ultimatum: the chicken or me. Just kidding...you probably shouldn't do that.
Make sure the chicken is thoroughly cooked through. Raw chicken is no way to win anyone's heart.
Pair the chicken with appropriate sides. The recipe doesn't require anything else, but it goes well with some roasted potatoes, asparagus and a bottle of wine.
Your Recently Viewed Recipes
Join our community of 5 million cooks!
Get free recipes, exclusive partner offers, and more.
Thank You for Signing Up!
There was an issue signing you up. Please check your email address, and try again.