Apple Fig Stuffed Chicken Breasts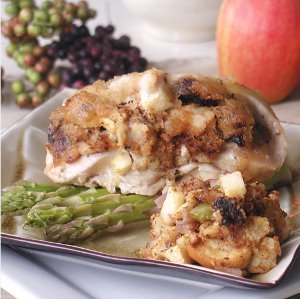 Moist delicious chicken breasts are stuffed with apple-fig dressing and glazed with a sweet white wine and brown sugar applesauce in this elegant chicken recipe. Perfect for the Fall or any time of year, Apple Fig Stuffed Chicken Breasts have a great salty, yet sweet, flavor that will have you wanting to make them week after week.
Ingredients
2 large boneless, skinless chicken breasts
12 slices white bread
1

1

/

2

tablespoon butter

1

/

4

onion, peeled, diced
1 celery stalk, diced
1 egg, slightly beaten
1 cup chicken broth

1

/

2

teaspoon Italian seasoning

1

/

2

teaspoon garlic powder
salt & pepper to taste
1

1

/

2

cup apples, peeled, diced

1

/

4

cup dried figs
FOR THE GLAZE:

1

/

2

cup applesauce

1

/

2

cup brown sugar
1

1

/

2

teaspoon lemon juice
1 tablespoon olive oil
1 tablespoon dry white wine
dash of pepper medley
1 teaspoon Italian Herb seasoning
Instructions
Preheat oven to 325 degrees F.

Place bread slices on baking sheets and lightly toast. Grease casserole dish; set aside. Cube toasted bread; put in a large mixing bowl - set aside.

Melt butter over medium heat; add onion and celery and saut until nearly soft.

Add to mixing bowl along with egg, chicken broth, apples, figs and seasonings. Stir until well combined.

Fill casserole dish with stuffing mixture and bake for about an hour or until top is golden brown; set aside to cool.

In a medium bowl whisk all ingredients until well combined; set aside.

Raise oven temperature to 375 degrees F.

Slice chicken breasts lengthwise in half; flatten with metal mallet or marble rolling pin.

Fill one half with stuffing and roll; hold together with wooden toothpicks. Place in baking dish and top with glaze; bake uncovered for approximately 20 minutes.
Your Recently Viewed Recipes