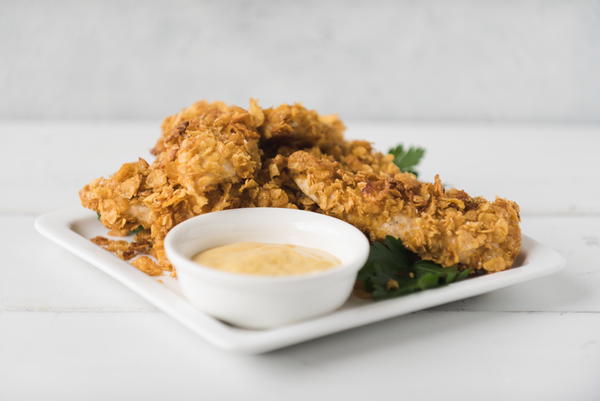 30 Minute No Fy Chicken
If you love the taste of that crispy outer skin on a juicy piece of fried chicken, you're not alone. There's a reason people love it, and that's because it's delicious. Sometimes, however, you want to try to be a little healthier, and that's where this recipe for 30 Minute No Fry Chicken comes in handy. This baked chicken recipe achieves that crispy, crunchy, outer layer while being much healthier for you than its fried alternative. A seasoned and crushed-up blend of corn flake cereal coats pieces of honey-mustard-dipped chicken, which is all baked to golden perfection. Honey mustard dipping sauce on the side makes this dish complete! This is the perfect, quick and easy, family dinner after a long day.
Ingredients
1 cup prepared honey mustard dressing
2 tablespoons water
1 pound chicken tenderloins
3 cups corn flake cereal
1 teaspoon salt
1 teaspoon pepper
1 teaspoon garlic powder
Instructions
Preheat oven to 400 degrees F.  

In a bowl, mix honey mustard with 2 tablespoons water. Set aside.

In a large zip-top bag, mix cereal with salt, pepper and garlic powder. Crush cereal (don't over crush!) and shake the bag to combine everything.

Dip chicken tenderloins in the mustard mixture and then place in the cereal bag.

Shake to coat everything well. Lay pieces out on a parchment lined baking sheet.

Bake 20 minutes, or until chicken is cooked through.

Allow to cool slightly, and serve with additional honey mustard dressing for dipping.
Your Recently Viewed Recipes