27 Cheap and Easy Chicken Recipes eCookbook
27 Cheap & Easy Chicken Recipes
When it comes to getting dinner on the table, you don't have to break the bank to feed your family. The dishes in this collection of 27 Cheap & Easy Chicken Recipes not only save you money on your grocery bill, but they also save you time! The simple recipes are budget-friendly to make but definitely don't sacrifice flavor. If you're growing tired of the same chicken dishes you've been making for years, try any one of the easy chicken recipes in this free eCookbook. They're packed with flavor and are sure to become your new family favorites.
Table of Contents:
Note From The Editor
Let's face it, there are plenty of us out there who are counting pennies and budgeting our expenses. When it comes to budgeting, food is a huge part of that, especially with food prices continuing to go up. We all want to eat well, we want it to taste good, and if it's healthy that's a bonus too! That's why this latest eCookbook of 27 Cheap and Easy Chicken Recipes will become a lifesaver for your upcoming meal planning.

This eCookbook is full of delicious and easy chicken recipes that are a breeze to make. They require mostly minimal ingredients which make them very budget friendly, plus they are perfect to make over and over. These chicken recipes are a good mix of healthy and home-style, like Country Oven Fried Chicken (page 7), Chicken and Cabbage (page 21), Homemade Amish Chicken Pot Pie (page 10), Chicken and Rice with Gravy (page 8) and many more! It's time to make life just a little bit simpler with the help of this 27 Cheap and Easy Chicken Recipes eCookbook.
Be sure to save this easy to download 27 Cheap and Easy Chicken Recipes eCookbook so you can use it whenever you need it.

While you're here on RecipeLion, subscribe to our free Quick and Easy Recipes newsletter to get free recipes delivered to your inbox every week.


Enjoy the tasty recipes!
Click here to download this Free Cheap and Easy Chicken Recipes eCookboook!
What's Inside This eCookbook
Home-style Easy Chicken Recipes
These home-style chicken recipes are the kind of comforting dishes that you crave. There's nothing fancy about these easy chicken recipes ... just classic family favorites that hit the spot every time. Serve the chicken with any of your favorite sides for a complete meal that's ready in a flash and saves you money!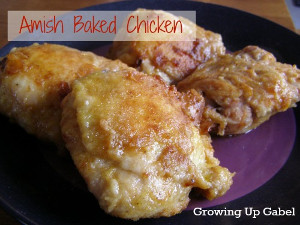 Amish Baked Chicken - The Amish are known for their simple cooking, and this fried chicken recipe is the perfect weeknight dinner idea. Serve it with any of your favorite sides for a satisfying and comforting meal.

5-Ingredient Creamy Crescent Chicken - A creamy chicken mixture is wrapped in crescent roll dough and baked until brown and delicious. The whole thing is then smothered in a creamy sauce that will have you going back for seconds.

Country Oven-Fried Chicken - This country oven-fried chicken recipe is not only delicious, it's better for you than a lot of other country fried chicken recipes. Why? Because it's made in the oven, not deep fried. It's super moist and delicious!

Easy Garlic Chicken Breasts - A great stovetop meal! A one skillet meal made with chicken, barbecue sauce, corn and rice is a great way to get dinner on the table quickly. Try this one during the winter months when it's too cold to grill outside.
Easy Chicken Recipes for Your Week
Sometimes after a long day, the last thing you want to think about is cooking dinner. These easy chicken recipes will be your life-savers. Some of them take just minutes to make, and some can even be prepared ahead of time. When you don't feel like lifting a finger, turn to the recipes in this chapter! They will make your week much more delicious.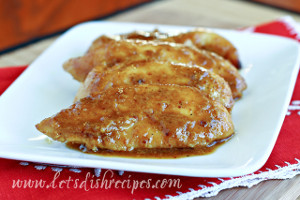 Easy Overnight Chicken - This might be the easiest chicken breast recipe you ever make. The chicken is left to marinate in a simple sauce overnight, so dinner is ready for the oven when you get home from a busy day.

Chicken & Cabbage - For a quick and easy chicken recipe you must try this delicious Chicken & Cabbage recipe from The Mommy Diet - a book by Alison Sweeney, host of The Biggest Loser. Not only is it easy, it's budget friendly too!

Simple Sweet and Sour Chicken - Sweet and sour are a wonderful flavor combination popular in Asian recipes. This unique version includes pineapple for sweetness, and a combination of soy sauce and vinegar for the glaze.

Engagement Chicken - Prepare this easy chicken recipe and snag a husband! Make up this delicious and amazing Engagement Chicken when you want to impress a certain someone. He'll be sure to get down on one knee before the dinner is over.
Click here to download this Free Cheap and Easy Chicken Recipes eCookboook!
Need Help Downloading?
You can easily download and print out each eCookbook for easy reference while cooking.
For help downloading our eCookbooks, see our help document here.
Don't Miss our other Free eCookbooks
If you enjoyed this free eCookbook, you won't want to miss any of our other downloadable recipe collections. You can browse our entire library of free eCookbooks here.
Sign Up for our Free Newsletter!
With your free copy of 27 Cheap & Easy Chicken Recipes (as with all of our free downloadable eCookbooks) you can also subscribe to our free Quick and Easy Recipes newsletter to get free recipes delivered to your email inbox every week. Become a part of the RecipeLion community! By subscribing you will receive:
Six weekly emails with free recipes, tips, collection pages, videos and more + a weekly wrap-up.
Chances to win cookbooks and food products from our weekly giveaways and contests.
New recipes and eCookbooks made available to you throughout the year.
Access to our recipe large collection full of over 40,000 recipes, including budget friendly and quick and easy recipes
The opportunity to share ideas and help others in the recipe and cooking community.
Click here to download this Free Cheap and Easy Chicken Recipes eCookboook!
Your Recently Viewed Recipes
Join our community of 5 million cooks!
Get free recipes, exclusive partner offers, and more.
Thank You for Signing Up!
There was an issue signing you up. Please check your email address, and try again.