Just Like Olive Garden's Lemon Cream Cake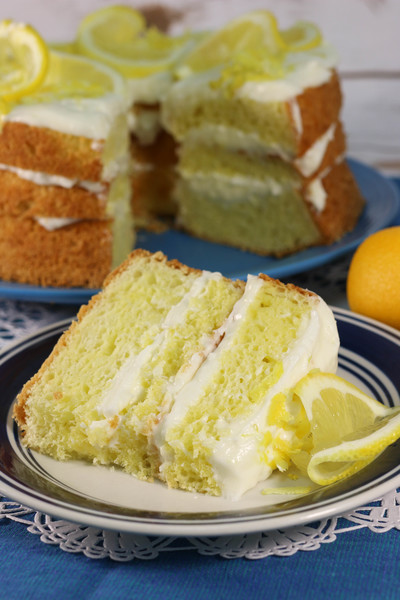 Just Like Olive Garden's Lemon Cream Cake
If you've ever had Olive Garden's sweet confection, the Italian Lemon Cream Cake, you know how delicious it is. Just Like Olive Garden's Lemon Cream Cake recipe lets you make this delightful recipe at home! This recipe shows you how to make a lovely lemon cake completely from scratch, so you know it's going to taste amazing. As an added bonus, you can boast about your talents in the kitchen to all your friends. It's more than likely that once they try a piece, they'll be asking you to make this cake all the time. We can guarantee this recipe is top-notch because we made it in our test kitchen. Fair warning: there will not be any leftover, so make sure to grab a slice while you can and enjoy the fruits of your labor!
Notes


It is important to notice when a recipe says "divided" – it means you will use this amount in total but in more than one step. For the lemon, always remove the zest first, then squeeze and measure the juice.




This cake requires a special pan if it is to be assembled as directed – the 10-inch, straight-sided tube pan is usually called an "angel food cake pan" because that was its original use. The straight sides make it easiest to re-assemble after it is filled. You could make this in a bundt pan, however, it will look different and the top layer will be more likely to move when you cut it into slices.




Cake Flour is a specially milled white wheat flour and available in the baking aisle of the supermarket. Regular, all-purpose flour cannot be successfully substituted for a light cake such as this one.


Serves12
Ingredients
For the Cake:
6 eggs, separated

3

/

4

cup sugar

1

/

2

teaspoon cream of tarter

3

/

4

cup water

1

/

2

cup vegetable oil
1

1

/

2

tablespoon lemon zest, divided
1

3

/

4

cup cake flour

1

/

2

cup sugar
1 tablespoon baking powder
1 teaspoon salt
For the Filling:
1 cup whipping cream
8 ounces cream cheese at room temperature
2

1

/

2

cups powered sugar
3 tablespoons lemon juice

1

/

4

cup powdered sugar and fresh lemon slices for garnish
Instructions
Preheat oven to 350 degrees F. Have a 10-inch, straight-sided tube pan (see note) ready but un-greased.
Separate eggs, setting aside the yolks, and whip the whites in an electric mixer until foamy. Slowly add the sugar and cream of tarter and continue to whip on high until the beater leaves distinct tracks and glossy, stiff peaks form, about 3 minutes. Set aside.
Combine water, vegetable oil and 1 tablespoon of the lemon zest with the reserved egg yolks.
Place the cake flour, sugar, baking powder and salt in a large bowl, and stir with a whisk or fork to combine well.
Using an electric mixer, begin by mixing the wet ingredients until combined, then slowly add the dry ingredients with the machine running. Stop and scrape down the sides completely and continue until everything is well mixed.
Fold together the batter with the egg white mixture just until there are no large swirls of the yellow egg mixture it does not have to be completely mixed.
Spoon batter into the cake pan and bake for 1 hour, until a cake tester inserted in the center comes out clean. Immediately turn the cake in the pan upside down and either rest it on the pans tabs or set it on top of a bottle neck until completely cool, about an hour. (See note)
While cake is cooling, prepare the filling: Use an electric mixer to whip the cream to firm peaks. In another bowl, whip the cream cheese until it is smooth. Add the lemon juice and zest, then slowly add the powdered sugar until completely mixed. Fold together the cream cheese mixture with the whipped cream and chill for 30 minutes before assembling the cake.
When cake has cooled, use a table knife to run around the edges and the tube to loosen the cake, then tip it out onto a large plate. Use a serrated knife to cut the cake horizontally into 3 layers. Spread the filling between the layers and chill the cake.
Before serving, top the cake with sifted powdered sugar and lemon slices, if desired.
---
Step-by-Step:
Once your cake has finished baking, carefully ease it out of the baking pan by cutting around the edges with a knife:
Next, place a plate over the top of the baking pan, and flip the cake out onto it:
From here, you're going to cut the cake into three layers so that you can frost inbetween them. First, you'll need to place toothpicks about an inch apart around the circumference of the cake, and about a half inch from the bottom, like so:
Next, you'll want to cut the cake in half, just above the toothpicks:
Now, it's time to start frosting. Begin by removing the toothpicks from the cake, and then frost the top of that layer.
Like you did before, you're going to cut the unfrosted layer of cake in half again by placing toothpicks all around it (one inch apart and a half inch from the bottom), and cutting the cake above where you placed the toothpicks:
Then, you'll place the unfrosted layer on top of the layer you just frosted, and frost the top:
Finally, place the final unfrosted layer on top of that, and frost it:
Next, you'll begin garnishing your cake with lemon zest:
...and lemon slices:
The final result should look like this:
Your Recently Viewed Recipes
Join our community of 5 million cooks!
Get free recipes, exclusive partner offers, and more.
Thank You for Signing Up!
There was an issue signing you up. Please check your email address, and try again.