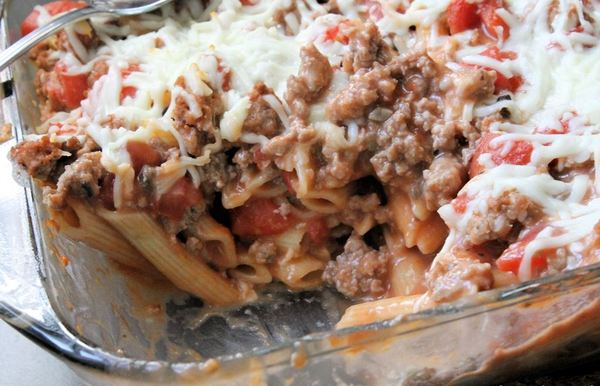 When you get home from work, making dinner is probably the last thing you want to think about. That's why it's nice to have easy casserole recipes like this Quick Fix Casserole on hand when you're in no mood to figure out what to make. This is one of the best casserole recipes to make for dinner because it's super hearty and ready in a flash. Made with ground turkey, cheese, and mushroom soup, this casserole is also extremely budget friendly! Now you'll be able to gather around the dinner table with peace of mind and a full plate.
Ingredients
2 cans (8-ounces each) tomato sauce
1 can (14.5-ounces) diced tomatoes
2 cans (10.5-ounces) cream of mushroom soup
2 cups shredded Mozzarella or Cheddar cheese
1 (16-ounces) package of pasta
1 pound ground turkey or ground beef
Instructions
Preheat your oven to 350 degrees F.

Fill a pot with water and set on the stove to boil. You will need enough water to cook one box of pasta.

While the water is warming up, add your ground turkey to a skillet. You want to use one with the tallest sides possible. Break it into chunks and brown over medium heat.

Drain the fat from the ground turkey (or beef if thats what youre using)

Once your water is at a rolling boil add some salt to the water (for flavor) and a dash of olive oil (to keep the pasta from sticking to each other). Then, add your pasta. Cook until al dente (or slightly firm).

Once the pasta is cooked, drain the water and then place your cooked pasta into a 9x13 pan.

Place the drained ground turkey back into the skillet you used before. Add the cans of tomato sauce, diced tomatoes, and cream of mushroom soup to the ground turkey. *You could also add some shredded cheese to the mixture add this point*

Mix the ingredients together and cook over medium-low heat until it begins to simmer.

Pour the meat/tomato/mushroom mixture over the cooked pasta in the 9x13 pan. The liquid from the diced tomatoes and tomato sauce will allow the mixture to seep down into the dish, covering all the pasta.

Cover the casserole with shredded cheese.

Bake in your pre-heated oven for 20 minutes or until the cheese on top is melted. After removing from the oven let the casserole set for 5-10 minutes and then serve to all the hungry bellies in your home!
Your Recently Viewed Recipes